Ukrainian President's Ally Set for Premier as Yatsenyuk Goes
by and
Prime minister bows to pressure amid coalition infighting

President Poroshenko sees parliament Speaker Hroisman as PM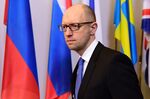 The resignation of Ukraine's prime minister cleared the path for an ally of President Petro Poroshenko to lead a new-look government as the former Soviet republic seeks to end its worst political crisis in two years and restart billions of dollars of international aid.
Parliament Speaker Volodymyr Hroisman, nominated by Poroshenko's party as a replacement for Premier Arseniy Yatsenyuk, may be confirmed by lawmakers as early as Tuesday. After weeks of pressure, Yatsenyuk said Sunday that he'd quit, though his party would remain part of a revamped ruling coalition, alongside that of the president.
Swept to power in 2014 after a street revolution demanding Ukraine be remade as a European-style democracy, the country's leaders have come under fire from voters and foreign donors for failing to tackle corruption. Stalled reforms prompted the departure of key officials from the administration and a freeze in disbursements from a $17.5 billion International Monetary Fund bailout. While the economy has begun to recover from an 18-month recession, the hryvnia has lost more than 10 percent against the dollar this year.
"We can't tolerate anarchy any more," Poroshenko said Sunday in an interview with three Ukrainian television channels. "We must have a coalition and a nominee for the prime minister's post on Tuesday. I expect it will be Hroisman but I'll work with any prime minister."
QuickTake: Ukraine's Economic War
The president's party had been seeking to lure independent deputies to enable the formation of a new majority coalition in the 450-seat house. Hroisman told parliamentary leaders Monday that he expects the coalition and the new cabinet to be approved this week. He vowed to nurture the economy's nascent recovery and restart cooperation with the IMF.
Ukrainian assets reacted positively to the political developments, with bonds rallying the most in a month and the hryvnia strengthening for a fifth day. Poroshenko said he'd received assurances during a recent visit to Washington that $1 billion in U.S. loan guarantees would be approved once the new cabinet is in place. More aid would follow, including 600 million euros ($680 million) from the European Union and $1.7 billion from the IMF, he said.
Miklos Role?
Hroisman has been parliament speaker since November 2014, serving previously as a deputy prime minister under Yatsenyuk. His appointment, ahead of candidates such as Finance Minister Natalie Jaresko, would consolidate Poroshenko's grip on power. He's said he'd like to appoint former Slovak Finance Minister Ivan Miklos to replace Jaresko, a favorite among investors after she oversaw a $15 billion debt restructuring last year.
Miklos's role is still under discussion, Hroisman said Monday. The Ukrayinska Pravda website, citing people it didn't identify, reported earlier that Miklos won't join the cabinet and that a candidate for finance minister hasn't been agreed on.
Poroshenko first urged Yatsenyuk to step down Feb. 16, saying a cabinet shakeup would improve governance and help parliament pass reforms. While Yatsenyuk survived a no-confidence vote initiated by the president's party, his coalition's two junior partners left.
Yatsenyuk emerged to lead Ukraine after the nation's second popular uprising in 10 years ousted Kremlin-backed President Viktor Yanukovych. He helped lead a ruling coalition that promised to bring European levels of transparency to Ukraine after decades of misrule.
Before it's here, it's on the Bloomberg Terminal.
LEARN MORE