U.K.'s Daily Mail Said to Consider Bid for Yahoo, WSJ Reports
by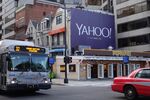 The parent company of the U.K.'s Daily Mail is in talks with private-equity firms about a possible bid for Yahoo! Inc., the Wall Street Journal reported, citing unidentified people familiar with the discussions.
The potential offer could take one of two forms, the Journal reported. In the first, a private-equity partner would acquire Yahoo's main web business while the Mail would take over the media and news properties; in the second, a PE firm could acquire Yahoo's Internet business and form a new company by merging its media and news properties with the Mail's online operations, the Journal said, citing the people.
Yahoo said it would explore strategic alternatives, including selling its main Internet operations, earlier this year after scrapping a plan to spin off its stake in Chinese e-commerce giant Alibaba Group Holding Ltd. Yahoo is said to have set an April 18 deadline for bids.
Bloomberg News reported April 8 that Verizon Communications Inc. plans to bid for Yahoo's Web business and is willing to acquire the company's Yahoo Japan Corp. stake to sweeten the deal, according to people familiar with the matter.
Before it's here, it's on the Bloomberg Terminal.
LEARN MORE