Pakistan Assessing Damages After Earthquake Shakes South Asia
by
Government reporting deaths and injuries in northwest region

Tremors could be felt as far away as New Delhi and Kabul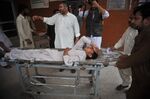 Pakistan's National Disaster Management Authority said at least five people have been killed and five more injured after a strong earthquake centered in Afghanistan's Hindu Kush region caused tremors that could be felt as far away as New Delhi.
The Pakistani government has directed regional disaster management agencies to conduct damage assessments and authorities were urged to exercise caution in view of anticipated aftershocks to the quake, which NDMA said measured 7.1 magnitude on the Richter scale. The nation's air force also has been asked to participate in damage assessment, NDMA said in a statement on its website.
The epicenter is located about 270 kilometers (168 miles) northeast of Kabul, according to a report by the Hong Kong Observatory. The quake was felt in New Delhi, India's capital at about 4 p.m. local time, the observatory said. Residents fled their homes and offices in Islamabad, Pakistan's capital, as buildings swayed, the Associated Press said.
The quake toppled the walls of homes in northwest Pakistan, killing one person, the AP said, attributing the information to two NDMA officials who spoke on condition of anonymity because they weren't authorized to speak to the media. Another 30 wounded people were taken to hospitals, according to the officials, according to the AP report.
The NDMA reported five deaths and five injuries in a text message.
The South Asia region has a history of catastrophic earthquakes because the tectonic plate that carries the Indian subcontinent is pushing northward into the main Asian plate. A strong temblor in Nepal in April 2015 -- the most powerful to hit the country since at least 1934 -- killed more than 8,000 people and triggered deadly avalanches on Mount Everest.
Before it's here, it's on the Bloomberg Terminal.
LEARN MORE