Fireworks Blast Kills 102 People in India Temple: PTI
by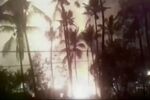 One-hundred-and-two people died and 280 were injured in an explosion during a fireworks display at a temple in the south Indian state of Kerala, the Press Trust of India reported, citing the state's Chief Minister Oommen Chandy.

Sparks from the display during a religious festival at Puttingal Devi Temple in Kollam district of the state triggered the explosion at 3:30 a.m Sunday local time, PTI reported. Prime Minister Narendra Modi will visit Kerala soon to assess the situation, his office said in a statement posted on its website.
There have been a number of incidents in the past five years at mass religious gatherings in India that have led to stampedes and deaths. In October 2013, at least 111 people, including women and children, were killed in central India when rumors that a bridge was about to collapse triggered panic and caused pilgrims to jump into a river. About 102 people were killed in January 2011 at a Hindu shrine in Kerala, according to government data.
Before it's here, it's on the Bloomberg Terminal.
LEARN MORE