China's Shrinking Steel Output Will Boost Prices by 2018
Bloomberg News
World Steel Dynamics says China production to fall 18 percent

Price slump of late-2015 was one-time event: Peter Marcus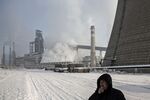 China's steel industry, the world's biggest, will shrink fast enough to reduce its exports, preventing a repeat of last year's global price collapse, and paving the way for a stronger comeback in two years, according to a five-decade veteran of global steel markets.
"We can see a spike and a steel shortage in 2018, when the Chinese armada is defeated, demand turns up, the global economy grows, and there's a lot of protectionism,'' said Peter Marcus, managing partner of consultancy World Steel Dynamics, at an industry conference in Shanghai on Saturday. "The low prices we reached in late-2015 are not going to be repeated. That was a one-time event.''
The world steel industry is battling what one of China's top steelmakers described as a new "Ice Age," as slowing demand in Asia's biggest economy leaves the world chronically oversupplied. Prices collapsed last year as China's industry pushed its surplus overseas, hitting steelmaker profits globally. Highlighting the gloom, India's Tata Steel Ltd. is trying to sell its U.K. business, jeopardizing tens of thousands of jobs.

Marcus said a drastic restructuring of China's steel industry will pull production down 18 percent from last year to 705 million tons by 2018, helping to lower exports. He didn't give a specific forecast for export volumes, which reached a record 110 million tons last year, or more than Japan's annual production.
Hot-rolled coil exported from China slumped as low as $260 a ton in December, down from a record $1,120 in June 2008, according to Beijing Antaike Information Development Co. Prices for the coil, a benchmark product used in everything from refrigerators to car bodies, have since recovered amid a broad rebound in commodities markets, to $360 on April 1.
Prices will remain low even after bottoming out recently, with little chance for a significant recovery before 2018 as the world grapples with a production glut, said Marcus, who has studied steel markets since the 1960s and advises top steel executives worldwide. 
"It's going to be a calamitous world in which we're reading about bankruptcies, about steel plants for sale at ultra-low prices, and in China it's probably going to be even worse than outside the country,'' he said.
By 2018, however, world prices for hot-rolled coil could jump as much as $150 a ton, Marcus said, without giving a target price.
Reduce Capacity
In China, President Xi Jinping is aiming to streamline the country's heavy industry to deal with oversupply and heavy losses by state-owned enterprises. The government wants to reduce steel capacity by as much as 150 million tons over five years — about 13 percent of the total.
Marcus forecasts the capacity cuts will happen on a bigger and faster scale than that, falling by 215 million tons by the end of 2018 to 850 million tons.
"I believe price allocation of resources in China is even more powerful than it is outside,'' he told the conference. "When a decision is made then things happen much more rapidly in your country, believe it or not, than in the U.S., Europe or Brazil. Somehow the government is going to help companies rationalize and reduce capacity.''
— With assistance by Martin Ritchie
Before it's here, it's on the Bloomberg Terminal.
LEARN MORE