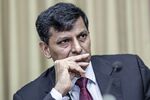 A spike in cash in India has left economists bemused and scrambling for an explanation. That includes central bank Governor Raghuram Rajan.
"We're trying to understand it," Rajan said, noting that there was $7.5 billion to $9 billion more than anticipated. 
What's puzzling is that the increase is more than the economy is growing or prices are rising. More worryingly, it may be contributing to a slowdown in the rise in bank deposits, which is adding to tight liquidity.
Last week, Rajan mentioned an explanation for the extra cash, which had only been spoken about in hushed tones before—election spending.
"Around election time, cash with the public does increase. You can guess as to reasons why. We also guess," Rajan said. "And you see some not just in the state which is going for elections, but also [in] neighboring states."
Elections took place late last year in Bihar, one of the country's poorest states. Voters in five more states will go to the polls this month and next. At 229 million people, the population of just those five states is bigger than Brazil's.

Money for votes is a common practice, as is handing out gifts, according to N. Bhaskara Rao, chairman of the New Delhi-based Centre for Media Studies, which published a report in 2014 on the topic.
There's also a lot of spending for more legitimate campaign expenses, from paying people to go campaigning door-to-door to TV and radio ads, said Sonal Varma, an economist at Nomura Holdings Inc. in Mumbai. 
The Election Commissioner said he had contacted the central bank for more information about the issue, PTI reported last week. 
Still, it could well be an entirely different reason, such as faster-than-expected economic growth in rural areas, where there are fewer banks to deposit money, Varma said.
Others aren't convinced that it's the elections.
Soumya Kanti Ghosh, the chief economist at State Bank of India, said that while the ballots may have been a small influence, a similar increase did not occur before the general election of 2014.
His theory is no less intriguing. There's been talk of removing the bigger bank notes from circulation, due in part to a clampdown on black money, he wrote in a note last week.  
"As a result of that people may be using more of high value currency now—that could be replaced—to purchase safe haven assets,'' he said.
Before it's here, it's on the Bloomberg Terminal.
LEARN MORE