Korean Election Brings Park's Labor-Law Overhaul to a Crossroad
By and
The president is pushing four bills to boost contract hiring

Opposition support is needed to get them passed by parliament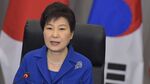 The fate of President Park Geun Hye's effort to spur economic revival through an overhaul of labor laws hangs in the balance this week as South Koreans go to the polls for a parliamentary election.
Her package of four bills to cut back restrictions on hiring contract workers has been the subject of heated debate in the National Assembly since it was submitted last year. Getting the legislation passed is central to her goals of raising the employment rate and boosting economic growth to 4 percent.
"Time isn't on her side," said Kwon Nam Hoon, a professor of economics at Konkuk University in Seoul. Park, who is more than half way through her single five-year term, needs support from both her ruling Saenuri party and opposition members in the legislature for the proposed changes.
Supporters of the package point to the high youth jobless rate and the struggles that older Koreans have in finding new roles in the workforce. By allowing more industries to use temporary employees and reducing restrictions on dismissing workers, Park wants to raise the employment rate to 70 percent, from just under 59 percent now.

Voting on Wednesday is likely to determine if Saenuri increases its majority by enough to force the bills through the assembly, or whether they continue to be blocked by the opposition, with vocal support from labor unions.
Estimates vary on the likelihood of Park's party winning a super-majority of 180 in 300-member parliament, which would allow Saenuri to unilaterally fast-track the package. Most analysts estimate it will take 150 to 180 seats, compared with the 146 it holds now in a chamber that has 292 sitting members.
Saenuri's support rating rose two percentage points to 39 percent on Friday, while the main opposition's stayed the same at 21 percent, according to a poll by Gallup Korea. About 20 percent of respondents were undecided.
Key Elements of Park's Package:
Allowing manufacturers to hire temporary workers
Making it easier to employ workers aged 55 and over on temporary contracts
Tightening requirements for claiming jobless benefits
Giving employers more leeway to extend maximum work hours


"Manufacturers are one example of where companies can't respond flexibly to volatile economic conditions because they're banned from hiring temporary workers at their production units," said Kim Dong Wook, a spokesman for the Korea Employers Association.
Unintended Consequences
Opponents contend that the bills would strip away important protections for workers and ultimately hurt the economy because people with lower wages and little job security spend less. 
A fifth bill that would have allowed companies to employ contract workers for longer than the current maximum of two years was put on the back-burner in January amid opposition from labor unions.
Still, there is almost 84 percent approval for letting companies hire older workers on temporary contracts, according to a survey of 1,000 people by the Maeil Business Newspaper and Hankook Research.
Many older Koreans have insufficient savings to fully retire and need to work to supplement their income. At the same time, their economic contributions are becoming increasingly important as the birth rate drops and the population ages.
Legislative Balance
While Park has won parliamentary approval for laws to encourage corporate restructuring by offering tax cuts for mergers and simplifying legal procedures, other economic measures have stalled, including bills aimed to boost the medical, tourism and education sectors.
At the moment, Saenuri needs the support of about 30 opposition lawmakers to bring bills to a vote.
"Public opinion is very much split," said Kim Hyeon Wook, an economist at SK Research Institute. "But companies should be able to increase jobs at a lower cost."