Cameron Faces Lawmakers as Tax Data Fail to Silence Critics
Thomas Penny
Renewed media onslaught over tax-efficient gifts from mother

U.K. to make companies liable for employees aiding tax evasion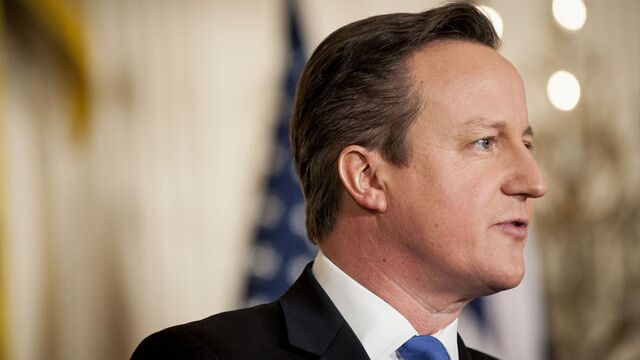 U.K. Prime Minister David Cameron faces lawmakers on Monday after a week of scrutiny of his financial affairs, during which he published six years of tax data to demonstrate his integrity and was forced to acknowledge he had profited from offshore investments.
The premier is due to make a statement to the House of Commons in London and say that companies will be prosecuted if they fail to stop their employees assisting tax evaders as he seeks to draw a line under the crisis, which has overshadowed his campaign to keep Britain in the European Union.
"This government has done more than any other to take action against corruption in all its forms, but we will go further," Cameron said in a statement. "We will legislate this year to hold companies who fail to stop their employees facilitating tax evasion criminally liable."
Cameron published details of the taxes he's paid since 2009 on Sunday after a week of negative headlines prompted by documents leaked from Panama law firm Mossack Fonseca linking his father, Ian, to an offshore investment fund. After first saying it was a "private matter" last Monday, the premier said on Thursday that he had personally profited from the fund. He acknowledged he had "badly handled" his response to the revelations and published his tax data at the weekend.
The four-page document detailing his tax affairs, prepared by a firm of chartered accountants, showed Cameron's salary as prime minister, income from a house he rents out in London and interest on his savings. Over the six years through April 2015, he paid 402,283 pounds ($570,000) in tax on earnings of 1.08 million pounds.
'Caesar's Wife'
The publication has set in train a shift in the level of disclosure expected of British politicians. On Sunday, Scottish First Minister Nicola Sturgeon released details of her tax return. Jacob Rees-Mogg, a member of Parliament from Cameron's Conservative Party, said he expected he would release his own details in the coming months.
"The mood has become one, it's very clear, that all MPs within a year or two will be publishing their returns, and I am not going to be the one holdout against that," Rees-Mogg told the BBC on Monday. "The argument for doing so is that Caesar's wife must be above suspicion and that if you are managing the country's affairs and voting on them, the electorate want to know that you are doing it properly and independently."
The immediate focus was on Chancellor of the Exchequer George Osborne, another man who, like Cameron, has family money -- his father and uncle set up the high-end wallpaper firm Osborne & Little Ltd. The prime minister's office signaled that the chancellor will give way.
'More Transparency'
"Chancellors and shadow chancellors should show transparency too," Cameron's spokeswoman, Helen Bower, told reporters. "The Treasury has been clear overnight that they are willing to look at whether they provide more transparency."
The shadow chancellor, Labour's finance spokesman, John McDonnell said he's in favor of all lawmakers publishing their tax returns.
Cameron also announced a task force to probe the leaked documents as he sought to regain the initiative after being accused of hypocrisy by the opposition Labour Party and by public protesters because he has repeatedly condemned companies and individuals who avoid paying tax.
Cameron's attempt to seize control of the controversy appeared to have backfired on Sunday when newspapers reported he had been given 200,000 pounds by his mother in an act that some interpreted as an attempt to avoid inheritance tax. "Cameron's 200K Gift from Mummy," the Sunday Mirror said on its front page, while the Mail on Sunday led with "Cameron Tax Bill Dodge on Mother's 200K Gift."
Often Used
Cameron's office said the gift, in two 100,000-pound payments in May and July 2011, is an often used piece of planning to reduce inheritance-tax liability. It will only be liable for the tax -- which would be paid by his mother's estate -- if she dies within seven years of giving the gift, which was additional to 300,000 pounds left to Cameron by his father.
Labour leader Jeremy Corbyn said Cameron still has questions to answer and called for increased openness about the financial affairs of everyone in public life. He has also said he will publish his tax details.
"What Panama has shown more than anything is there's one rule for the rich and another for the rest," Corbyn told BBC TV's "Andrew Marr Show" on Sunday.