BOJ Backfire Hangs Over Central Bankers as IMF Confab Starts
By and
Negative rates have sent yields tumbling as yen surges

Kuroda may face a `lot of questions' this week in Washington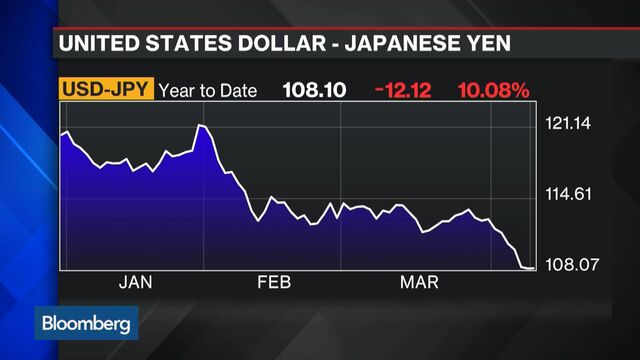 The world's central bankers, already hitting limits of their effectiveness on growth and inflation, are now contending with another risk: that additional stimulus could produce lackluster results and undercut investor confidence.
The Bank of Japan's decision in January to take interest rates negative has sent bond yields tumbling, while doing little to curb a surging yen that's squeezing the world's third-biggest economy just when it needs a weaker currency. That's put even more monetary and fiscal stimulus on the agenda at a time when Japanese households and companies are increasingly doubting the program.
"Japan is bringing bad news to the world," said Hiromichi Shirakawa, chief Japan economist at Credit Suisse Group AG and a former BOJ official. "It's demonstrating that massive monetary easing doesn't work for everyone. Any additional stimulus may invite criticism from other central banks."
The decline in credibility in Japan is a warning sign for central bankers and finance ministers who gather this week in Washington for spring meetings of the International Monetary Fund and World Bank, as well as a Group of 20 session.
Risk of Relapse
If policy makers' actions around the globe fail to gain traction soon, that risks a relapse into too-low inflation and even weaker growth, possibly roiling financial markets and increasing the threat that Japan-style stagnation spreads to more advanced economies.
The failure of policy to revive prices and growth in Japan would be a warning to all developed economies that need to break out into a cycle of investment, hiring, and slightly higher inflation.
"You've had a combination of this massive crisis that causes prolonged, weak growth and layered on top of that a series of other shocks that undercut any optimism," said Ethan Harris, co-head of global economic research at Bank of America Merrill Lynch in New York. "It is dangerous to be in this situation for so long because it becomes self-fulfilling."

Even after the financial-market swoon at the start of the year was reversed by aggressive European Central Bank action and the Federal Reserve's and Bank of England's pivots to a longer period of accommodation, the weak world economy continues to draw concern.
The IMF on Tuesday will release its updated World Economic Outlook, which is likely to show a dip in the global growth forecast following a reduction in the previous projections in January. IMF Managing Director Christine Lagarde said last week that expansion "remains too slow, too fragile, and risks to its durability are increasing."
Fed Chair Janet Yellen said March 29 that global developments pose risks to the U.S. economy, especially uncertainty around the pace of Chinese growth that sent stocks tumbling earlier in the first quarter.
BOJ Governor Haruhiko Kuroda and Finance Minister Taro Aso will be in the hot seat in Washington as they defend policies that have disrupted markets without solving Japan's underlying economic problems.
Currency Conflict
Kuroda's freedom to double down on stimulus to stoke inflation and growth may be limited by G-20 agreements to avoid the competitive devaluation of currencies. He's also up against critics in the investment community who argue that the central bank is harming the debt market and is on the cusp of running out of bonds to buy.
The 71-year-old governor maintains that all options are on the table, including a deeper cut to the negative rate, and increased purchases of assets ranging from Japanese government bonds to exchange-traded funds and real estate investment trusts.
Fiscal stimulus may be more likely, with Tokyo abuzz with speculation in recent weeks that the Abe government will compile a supplementary spending package to bolster an existing record budget for this fiscal year.
Expand Stimulus
"Kuroda is likely to face a lot of questions," said Credit Suisse's Shirakawa, no relation to former BOJ chief Masaaki Shirakawa. "But I don't think he can just sit tight when the economy is on the verge of returning to deflation. He'll have to expand stimulus. Of course, other nations won't be happy."
The yen has renewed its highs despite increased rhetoric from Japanese officials in the past week aimed at restraining its advance. Kuroda said Monday financial markets continue to be volatile, and he is watching the effect on the economy. Chief Cabinet Secretary Yoshihide Suga reiterated the government is watching foreign-exchange movements "with vigilance," and will take appropriate action if necessary.
Japan's experience with negative interest rates is rippling through policy circles. Lagarde has said that the world would be in a "much worse place today" without negative rates in Europe and Japan. Yet her former chief economist, Olivier Blanchard, said Friday that he's not a fan of the policy because it interferes with banks.
New York Fed President William C. Dudley said Friday that if the Fed needed to provide additional stimulus, "we might not decide to go to negative rates for a whole variety of reasons" and would instead use other means of easing in the event of a U.S. downturn, which Fed officials aren't forecasting.
The rise in the yen -- it's up 11 percent against the dollar this year, the most of 16 major currencies tracked by Bloomberg -- is troublesome because it sets up more disinflation and export drag in a major economy where aggressive policy stimulus has already been tried.
"Theoretically, central banks should always be able to raise" inflation, said Mark Spindel, a former World Bank official who now runs Potomac River Capital LLC in Washington. "They don't tell you what happens if it doesn't work."