92-Cent Crash Avoidance Sensor Drives Nippon Ceramic's Gains
Masatsugu Horie and Ma Jie
Nippon Ceramic adding capacity to meet demand, president says

Google, Toyota developing self-driving cars that need sensors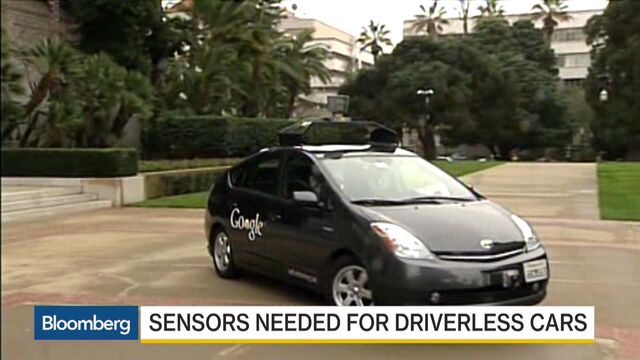 The multibillion-dollar business plans being hatched by global automakers and technology companies for self-driving vehicles depend on a sensor that's less than 1 inch wide and costs all of 92 cents. And a company you've probably never heard of, Nippon Ceramic Co., controls about half of that market. Its stock is up more than 40 percent over the past three years and analysts expect profits to nearly double by 2018.
In other words, it's good to be Nippon Ceramic right now.
The Japanese maker of ultrasonic sensors, which help autonomous vehicles avoid crashes and fit into tight parking spaces, expects demand to double in the next five years and is expanding its production lines to keep up, President Shinichi Taniguchi said in an interview.

Nippon Ceramic hopes to ride the industry's shift toward more autonomous driving technology. Toyota Motor Corp., Ford Motor Co., Alphabet Inc.'s Google and Baidu Inc. aim to introduce driverless cars in as soon as five years. Global revenue for driver-assistance features such as collision warning and emergency braking is projected by IHS Automotive to double to about $17 billion by 2021.
"This is a great opportunity for our growth," Taniguchi, 43, said at his office in Tottori. "The number of sensors going into the vehicles will increase. And we would like to take a bigger share."
Nippon Ceramic rose 2.2 percent in Tokyo trading, as the benchmark Topix index fell 0.6 percent.
Doubling Profit
The chipmaker plans to invest as much as 1 billion yen ($9.2 million) to expand manufacturing capacity in the Philippines, he said. Nippon Ceramic, which controls about 50 percent of the global market for ultrasonic sensors, is expected to almost double its net income by 2018, according to the average of analyst estimates compiled by Bloomberg.
Nippon Ceramic also is in talks with a European autonomous-driving system supplier seeking to switch from in-house production to purchasing the sensors from outside. This may further boost Nippon Ceramic's market share, said Taniguchi, who declined to disclose the supplier's name.
It's estimated that a quarter of all cars sold by 2035 will be able to guide themselves. Japanese suppliers Hitachi Automotive Systems Ltd. and NEC Corp. also make sensors for autonomous driving systems.

Toyota, Ford
"I will do whatever I can to further increase the market share in this segment," said Taniguchi, whose father founded Nippon Ceramic. "We hope to remain the No. 1 company. We have to keep our defenses strong."
Nippon Ceramic doesn't sell directly to automakers. Rather, it supplies the ultrasonic sensors to companies including Denso Corp. and Panasonic Corp., which then package them into electronics systems for Toyota, Ford, General Motors Co. and Volkswagen AG, according to data compiled by Bloomberg.

Toyota, the largest automaker, committed $1 billion over the next five years on research including autonomous vehicles, artificial intelligence and robotics. The company said April 7 it will collaborate with the University of Michigan on a research base focusing on self-driving cars.
Ford is spending $4.5 billion on electric vehicles and intelligent mobility until 2020. The company, which created the subsidiary Ford Smart Mobility LLC, is tripling its engineering investment in technologies that make cars more semi-autonomous.
Google has been working on driverless cars, including its own bubble-shaped two-seaters, since 2009. The vehicles have covered more than 1.5 million miles and are currently being tested in California, Texas, Washington and Arizona.
'Gold Mine'
Baidu, owner of China's biggest search engine, tested a modified red-and-white BMW 3 Series car around Beijing last year. Founder Robin Li called self-driving cars "an enormous gold mine" for the company, and he said in February they can become a commercial product within five years.

All of which is good news for Nippon Ceramic.
"There is no doubt that demand for their sensors will be skyrocketing from now as driver-assistant technologies prevail," said Keita Wakabayashi, a Tokyo-based analyst with Mito Securities Co. "There should be some benefits trickling down from the cars these tech giants are developing."
The company forecast in February that sales will rise about 4 percent annually to about 25 billion yen by 2020. Sales of the ultrasonic sensors for vehicles will grow even faster, at about 10 percent annually, Taniguchi said. Shares of the company, which also makes sensors for security systems and car air conditioners, rose 46 percent in the three years ending Dec. 31.
Ultrasonic sensors installed near the front and rear bumpers -- one under each headlight and two under each tail light -- detect objects and obstacles within a 5-meter (16-foot) range. They function along with radar and cameras, which spot obstacles in longer range, to help vehicles avoid collisions.
TV Remotes
At slower speeds, such as in a traffic jam or in a parking lot, they measure the distance to other objects and send a signal for the brakes to engage.
Nippon Ceramic is small -- its market capitalization of $454 million is less than the value of vehicles sold by Toyota in a day -- yet it has a history of being in the forefront of new technology.
It was founded by Yoshiharu Taniguchi in 1975 in Tottori, a coastal prefecture about 500 kilometers (310 miles) west of Tokyo known for its pears. Right after the company started business, its ultrasonic sensors were embedded in TV remote controls sold under the Sanyo brand.
Those became such a hit because of their accuracy that Nippon Ceramic was flooded with orders from other TV makers, yet it didn't add manufacturing capacity because management considered the demand a short-lived fad.
"Unlike back then, we believe the demand for ultrasonic sensors for autonomous driving cars is real this time around," Taniguchi said.
Before it's here, it's on the Bloomberg Terminal.
LEARN MORE