Swansea Soccer Club Nears Sale to Kaplan-Levien Investor Group
by
Kaplan is Oaktree co-founder; Levien owns part of DC United

Takeover would expand U.S. reach in English Premier League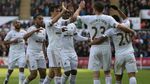 There's about to be another American owner in the English Premier League.
Jason Levien, part owner of Major League Soccer's D.C. United, and Steve Kaplan, the Oaktree Capital Management co-founder who holds a stake in the NBA's Memphis Grizzlies, lead a group that is close to taking a controlling interest in Swansea City, according to a statement Saturday from the Welsh soccer club.
The transaction would give the American group 75 percent of the team in a transaction that values the club at about $200 million, according to a person familiar with the negotiations. A deal for Liverpool-based Everton earlier this spring valued that team at around $240 million. 
American investors now control six of the 20 teams in the Premier League. There is an opportunity, many of them say, to wring profits with marketing tactics that have proved effective for their U.S.-based clubs. Owners will also reap the benefits of a new, three-year broadcast deal with Sky Sports and BT Group, worth $7.9 billion when it was signed. In the U.S., NBC pays about $1 billion to broadcast Europe's top soccer league through the 2021-22 season.
Chairman Huw Jenkins will stay on, and the Supporters Trust, a fan group that has a stake in the team and representation on the board, will also remain in place. Jenkins's stake would be reduced, while the Supporters Trust's holdings would be unchanged. The two sides are targeting a closing in mid-May, when the Premier League season ends.
With five games remaining, Swansea has 40 points, placing the Swans 12th of 20 teams and 13 points clear of relegation. The bottom three teams each year get sent to the second-tier Championship League, which is far less lucrative.
Levien and Kaplan are the latest Americans to buy into the Premier League, which according to Forbes boasts three of the most valuable soccer teams in the world: Manchester United, which is owned by the Glazer family, Manchester City and Chelsea. Most of them own American major league teams as well.
Josh Harris and Dave Blitzer (New Jersey Devils, Philadelphia 76ers) bought Crystal Palace in December; John Henry's Fenway Sports Group took control of Liverpool in 2010; Stan Kroenke became majority shareholder of Arsenal in 2011; and Randy Lerner (Cleveland Browns) has been owner and chairman of Aston Villa since 2006. Shad Kahn (Jacksonville Jaguars) owns Fulham, a second-division team.
Swansea's rise to the Premier League followed a long period of poor performance, stagnating attendance and financial crisis. As recently as 2003, the team was in last place in the fourth level of English soccer and destined to fall into the amateur ranks.
Levien and Kaplan are also part of a group in talks to buy a share of the NBA's Minnesota Timberwolves with a path to control of the franchise. Their planned Swansea ownership group also includes Grizzlies minority owner Jed Kaplan (no relation to Steve).
Before it's here, it's on the Bloomberg Terminal.
LEARN MORE