Hastert's Alleged Sex Abuse of Boys Cited in Hush Money Case
by
Decades-old abuse of high school wrestlers described by U.S.

Prosecutors say Hastert's `hypocrisy' should affect sentence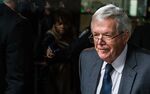 J. Dennis Hastert, who as speaker of the House was second in line to the U.S. presidency, is alleged by federal prosecutors to have sexually abused five boys while he was a high school wrestling coach in Illinois.
Hastert, 74, pleaded guilty in October to evading bank reporting laws in a scheme to hide payoffs meant to keep secret decades-old sexual "misconduct." Prosecutors told a federal judge Friday that Hastert's reasons for the banking violations should be considered when he's sentenced on April 27.

Detailed allegations of Hastert's abuse, filed publicly in court for the first time, date back to the 1970s and 1980s and involved four unidentified members of his wrestling team while they were minors and statements by the sister of a fifth former wrestler who died in 1995.
The abuse of the students took place in locker rooms and in hotel rooms, prosecutors said. They cited Hastert's "stunning hypocrisy" in his descriptions of his days as a coach and contrasted his political success with the troubles of his former students.
"These boys struggled, and all are still struggling now with what defendant did to them," according to the filing. "Some have managed better than others, but all of them carry the scars defendant inflicted upon them."
Lawyers for Hastert didn't immediately respond to phone calls after regular business hours seeking comment on the allegations by prosecutors.
Hastert's lawyers said in a court filing this week that he is "deeply sorry and apologizes for his misconduct that occurred decades ago and the resulting harm he caused to others." Hastert, who suffered a minor stroke, is in poor health physically and emotionally, and is unable to manage caring for himself, they said.
Humiliation, Isolation
Seeking a sentence of probation for Hastert, the lawyers asked U.S. District Judge Thomas Durkin to "consider the humiliation and isolation that Mr. Hastert and his family already suffered."
Hastert admitted in October that he withdrew almost $1 million from bank accounts in increments below a $10,000 reporting trigger to pay an unidentified individual. In Friday's filing, prosecutors said Hastert said he was being extorted by the person.
After listening to phone calls between Hastert and that accuser, investigators concluded that the actions of the man, who was one of Hastert's victims, weren't consistent with extortion, according to the filing.
Prosecutors said they agreed with a recommended sentence of zero to six months in jail on the finance charge, which carries a maximum five-year term. They said they had no reason to dispute statements by Hastert's lawyers that their client is in poor health.
In any case, the former Republican congressman from Plano, Illinois, should be closely supervised if he is spared prison, prosecutors said. He should also be required to participate in sex-offender evaluation and treatment if recommended, they said.
Hastert served in Congress from 1987 to 2007, the last eight years as speaker. Prior to that he'd been a teacher and wrestling coach at Yorkville High School, about 55 miles southwest of Chicago and about six miles east of Plano.
The case is U.S. v. Hastert, 15-cr-00315, U.S. District Court, Northern District of Illinois (Chicago).
Before it's here, it's on the Bloomberg Terminal.
LEARN MORE