Cameron Publishes Tax Details in Bid to Move on From Panama
by and
U.K. leader sets up task force after own offshore admission

Tax authorities chasing 700 leads relating to Panama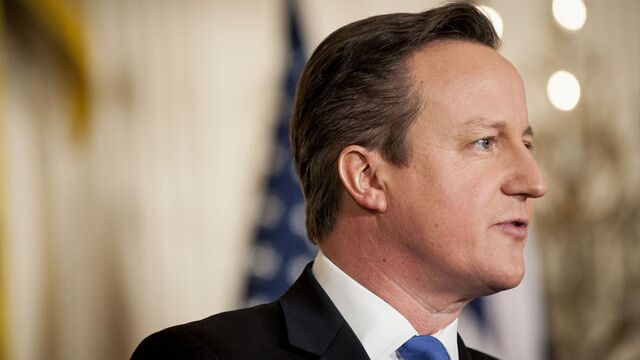 U.K. Prime Minister David Cameron published details of the taxes he's paid since 2009 as he sought to draw a line under the furor over his personal finances, which culminated in him acknowledging on Thursday that he profited from an offshore fund linked to his father.
The four-page document, prepared by a firm of chartered accountants and published on Sunday, shows Cameron's salary as prime minister, income from a house he rents out in London and interest on his savings. Over the six tax years through April 2015, he paid 402,283 pounds ($568,345) in tax on earnings of 1.08 million pounds, according to the data.

"As the prime minister said last week, he saw no issue with prime ministers and leaders of the opposition publishing the information that goes into their tax returns," Cameron's office said in a statement. The documents represent "a summary and explanation of the prime minister's tax affairs going back six years. These cover his final year as leader of the opposition and all years as prime minister."
Task Force
Cameron also announced a task force to probe documents leaked from Panama law firm Mossack Fonseca as he sought to regain the initiative after being forced to acknowledge he once held shares in an offshore fund linked to his father, Ian, which was mentioned in the papers. He was accused of hypocrisy by the opposition Labour Party and protesters outside Downing Street on Saturday, because he has repeatedly condemned companies and individuals who avoid paying tax.
Cameron's attempt to seize control of the controversy appeared to have backfired on Sunday when newspapers reported that he had been given 200,000 pounds by his mother in what some interpreted as an attempt to avoid inheritance tax. "Cameron's 200K Gift from Mummy," the Sunday Mirror said on its front page, while the Mail on Sunday led with "Cameron Tax Bill Dodge on Mother's 200K Gift."
Cameron's office said the gift, in two 100,000 pound payments in May and July 2011, is an often used piece of planning to reduce inheritance tax liability. It will only be liable for inheritance tax -- which would be paid by his mother's estate -- if she dies within seven years of giving the gift, and was additional to 300,000 pounds left to Cameron by his father in his will.
Iceland to Argentina
Cameron isn't the only prominent figure to be dragged into fallout from publication of data from the leaked papers. The Icelandic prime minister and two European banking executives were forced to resign. It's also causing problems for Argentine President Mauricio Macri, who said this week he will put his assets in a blind trust after a prosecutor said there were grounds to investigate him following revelations of his involvement in two companies listed in Panama.
Cameron promised to publish details of his tax affairs following his acknowledgment on Thursday that he sold about 30,000 pounds of shares in his father's fund shortly before he became prime minister. He said he had paid all tax due on the stake.
The data show the prime minister's taxable income totaled 1.08 million pounds for the six tax years through April 2015. That included 795,766 pounds in salary, 56,451 pounds in taxable expenses on items including travel and clothing, and 215,400 pounds from his 50 percent share in renting out his and his wife's London home.
In the year 2013-14 he received 6,681 pounds in interest from savings in "a U.K. high street bank," the documents show, suggesting substantial cash deposits at a time when the Bank of England base rate was 0.5 percent.
Cameron also received more than 140,000 pounds from the sale of investments around the time he became prime minister in 2010, his office said. About 31,000 pounds came from the sale of the stake in his father's trust, 72,000 pounds from selling a share portfolio and 40,000 pounds from an investment account with his stockbroker. The family then spent 140,000 pounds on buying land next to their Witney home and 120,000 pounds on improvements to their apartment at 11 Downing Street.
Cameron told Conservative Party activists on Saturday that the poor media management of the past week, and the fact it took five statements for him to clarify his relationship to his father's fund, was his fault.
"Don't blame Number 10 Downing Street or nameless advisers, blame me," he said, to applause from the Conservative Party's Spring Forum. "I know that I should have handled this better, I could have handled this better; I know there are lessons to learn and I will learn them."
Opposition Questions
Jeremy Corbyn, leader of the opposition Labour Party, said Cameron still has questions to answer and called for increased openness about the financial affairs of everyone in public life. He has also said he will publish his tax details.
"We need to see the papers, we need to know what he actually returned, why he put this money overseas in the first place and whether he made anything out of it before 2010 when he became prime minister," Corbyn told BBC TV's 'The Andrew Marr Show' on Sunday. "What Panama has shown more than anything is there's one rule for the rich and another for the rest."
Angus Robertson, the Scottish National Party's leader in the House of Commons, told the 'Murnaghan' program on Sky News: "We've heard absolutely nothing from other members of the cabinet, where's the Chancellor of the Exchequer George Osborne? Has he made a statement saying he's never ever benefited from offshore trusts?"
Pursue Leads
The new task force will be made up of tax, fraud and criminal authorities and will pursue leads from the documents, Cameron said.
Her Majesty's Revenue and Customs, the U.K. tax authority, has already tracked down 2 billion pounds from tax dodgers since 2010, and is chasing 700 leads relating to Panama, according to a statement on Sunday from the Treasury. HMRC will lead the probe with the National Crime Agency, with Cameron committing initial funding of 10 million pounds. Investigators and analysts from the Serious Fraud Office and the Financial Conduct Authority will also assist.
Cameron is seeking to boost his government's record on cracking down on tax avoidance, a subject he has repeatedly returned to in meetings with governments and multilateral bodies around the world.
"The U.K. has been at the forefront of international action to tackle the global scourge of aggressive tax avoidance and evasion, and international corruption more broadly," Cameron said in a statement. "There is clearly further to go and this task-force will bring together the best of British expertise to deal with any wrongdoing relating to the Panama Papers."
More than 20 nations have announced probes and the Organization for Economic Cooperation and Development will host a meeting on April 13 to discuss cross-border tax compliance issues stemming from the leaks. The U.K. task-force will report back to the government "later this year," the Treasury said.
Before it's here, it's on the Bloomberg Terminal.
LEARN MORE