Yen's Best Week Since February Drives Surge in Volatility Gauge
by and
Japan's currency rallies past 108 per dollar at strongest

Yen surges even as Japanese officials weigh in on rally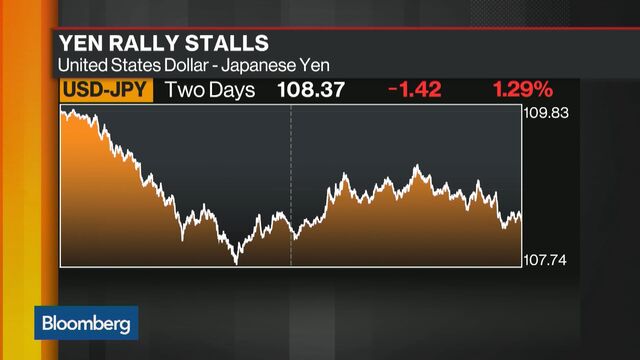 The yen logged its biggest weekly gain since February, sending volatility in the $5.3 trillion-a-day currency market toward a four-year high.
Japan's currency gained 2.2 percent or more versus all 16 major peers this week as the nation's exporters repatriate earnings for the start of the new financial year and traders become emboldened by doubts the authorities will step in to limit the currency's advance. The BOJ's surprise Jan. 29 decision to adopt negative interest rates has failed to rein in the currency's 11 percent rally this year.

The looming vote on Britain's membership in the European Union also stoked speculation about potential losses in the continent's currencies, while the dollar was undermined as traders reduced bets on higher U.S. interest rates.
Turbulent Combination
"The rise in volatility is part of the uncertainty around the Federal Reserve's monetary policy, the 'Brexit' referendum and the Japanese authority's approach to dealing with the yen's appreciation," said Peter Rosenstreich, head of market strategy at Swissquote Bank SA in Gland. "People are starting to question Abenomics and its limitations. The market is nervous because there's not much of a direction or clarity."
The yen advanced 0.1 percent to 108.07 per dollar as of 5 p.m. in New York, gaining for a sixth consecutive day. On Thursday it reached 107.67, the strongest since before Japan unexpectedly boosted its monetary stimulus program on Oct. 31, 2014.
Japan's currency slid 0.1 percent to 123.19 per euro, trimming this week's advance to 3.3 percent.
The surging yen has fueled volatility and pressured currencies such as the Brazilian real, South African rand and Australian dollar, which are dependent on commodity prices and have been among the biggest losers this week. There's speculation investors have withdrawn from so-called carry trades amid concern returns from higher-yielding assets will be wiped out by price swings, and as the yen -- a cheap funding currency -- appreciates.
A JPMorgan Chase & Co. index measuring price swings in Group-of-Seven currencies reached just shy of the highest level since 2011. It climbed above a gauge for emerging-market currencies for the first time since August. Price swings accelerated after the yen strengthened past 110 per dollar for the first time in almost 18 months, fueling speculation on whether the Bank of Japan will intervene to weaken its currency.
The yen's rally also spurred traders to boost hedges protecting against further gains. Risk-reversal prices derived from options suggest the yen will climb the most versus the dollar among 31 major currencies in the next six months.

There's been little sense that Japan's authorities have signaled a strong willingness to intervene, though officials did reiterate warnings against the yen's advance.
Japanese Finance Minister Taro Aso said rapid moves in the currency are undesirable, while Chief Cabinet Secretary Yoshihide Suga weighed in on the issue for a fourth day. Fueling investors' skepticism, though, Prime Minister Shinzo Abe pledged this week to avoid "arbitrary" intervention.
"We've seen some increased rhetoric overnight," said Charles St-Arnaud, a senior economist at Nomura International Plc in London. "The yen will continue to be a big focus. You're at such levels that are concerning for the authorities."
Before it's here, it's on the Bloomberg Terminal.
LEARN MORE