Posh Cameron's Wealth Problem Returns as `Brexit' Threat Looms
by
U.K. public dislikes idea of rich politicians, professor says

Cameron had 30,000 pounds in fund, inherited 300,000 pounds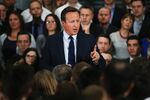 U.K. Prime Minister David Cameron's admission that he benefited from a fund based in Panama doesn't give evidence of tax avoidance, but it does serve to remind the British public that he's posh.
Cameron sought to draw a line under the furor that engulfed him this week following revelations that his late father, Ian, was director of a fund mentioned in documents leaked from a Panamanian law firm. He told ITV News late Thursday that he and his wife once owned a stake in the fund, selling it for about 30,000 pounds ($42,000) shortly before he became prime minister.
The revelation is badly timed for the privately educated prime minister, who's trying to persuade voters to choose to remain in the European Union in a June 23 referendum. Protesters plan to gather outside Cameron's official Downing Street residence on Saturday to demand that he "close tax loopholes or resign," according to the demonstration's Facebook group.
"The public does not like its politicians to be involved in big money, or even slightly strange money," Brian Cathcart, professor of journalism at Kingston University in London, said by phone Friday. "Most people feel that they don't have enough money, and they dislike the idea that the people running the country might have too much money in their view. That's always been a problem with Cameron who has the background of wealth."
The premier's admission featured on the front cover of most U.K. national papers Friday, including the Conservative-supporting Daily Mail and Daily Telegraph, which bore similar headlines: "PM: I Did Profit From Tax Haven" and "I Did Have Money Offshore." The Mail underlined the word "Did," while the Telegraph italicized it.
Family Finances
The Guardian newspaper published a breakdown of the Cameron family finances this week showing that, in 2009, his father's personal fortune was estimated by the Sunday Times Rich List at 10 million pounds. Cameron's parliamentary register of interests includes a reference to the family's London home, now rented out, which the Guardian said was reported to be valued at more than 3.5 million pounds.
The prime minister, who can trace has ancestry back to King Henry VII and at least seven earls, attended Britain's best-known fee-paying school, Eton, as well as Oxford University, both seen as bastions of privilege. At Oxford, he was a member of the Bullingdon Club, a fraternity known for its high jinks that was later parodied in a play called "Posh."
"It's either his fortune or his misfortune that he's Eton and Oxford, and Bullingdon Club as well," John Curtice, professor of politics at Strathclyde University in Glasgow, said by phone. "That's why he gets pursued, because there's this apparent disjuncture between his background and what he says is the kind of Conservative Party he's creating, and inevitably when there are opportunities to point this out, they're going to get picked up."
Morning Suits
In a country where the population is still class-conscious, Cameron has avoided ostentatious displays of wealth, sending his children to state schools and wearing an ordinary suit at his sister's wedding in 2010, when many of the guests wore coat and tails, or morning suits as they are known in Britain. 
"I've never hidden the fact that I am a very lucky person," Cameron told ITV. "I had wealthy parents who gave me a great upbringing, who paid for me to go to an amazing school. I have never tried to pretend to be anything I am not. And I am lucky, in that I earn a good salary as prime minister, my wife is successful and earns money and we own two very nice houses."
The revelations about the investment -- which is higher than the U.K.'s 27,600-pound average annual wage -- and that he inherited 300,000 pounds from his father, highlighted the gap between the prime minister and ordinary Britons.
"Most people wouldn't be in a position to have thousands of pounds to invest," Owen Smith, the opposition Labour Party's spokesman on work and pensions, said Friday in a BBC radio interview. "Is it effectively one rule for the rich and the rich who run the Tory party right now and another for the rest of us?"
Hypocrisy Charge
Cameron has also opened himself up to charges of hypocrisy by Labour, because his government has focused on clawing back money from corporations and individuals that avoid and underpay tax. Cameron described the comedian Jimmy Carr as immoral in 2012 after he was reported to be sheltering money from tax.
"Governments presided over by Cameron have been making an awful lot about getting rid of tax avoidance and tax evasion," said Curtice. The press "are pursuing him on the possibility that there's a difference between private behavior and political position."
Cameron's office at first dealt with questions about the Blairmore Holdings Inc. fund by saying that it was a "private matter," following that up with three further statements that gradually revealed neither he nor his wife and children benefit from or stand to do so in the future from any such fund. That left questions about whether he had profited from such investments in the past, which he answered in the ITV interview.
"This constitutes a moderate-scale scandal about Cameron which he has clearly handled rather badly and clumsily," Cathcart said. "That's given it a longer life than it might otherwise have. I would be surprised if there are many in the public who see this explicitly, just the Blairmore stuff, as the deal-breaker and Cameron must go on that basis, but it damages him."
Before it's here, it's on the Bloomberg Terminal.
LEARN MORE