Life After Disney? Staggs Can Look to Predecessors Who Rebounded
By , , and
Former heir apparent stepping down at end of September

Ex-studio boss Ross, products head Mooney landed on feet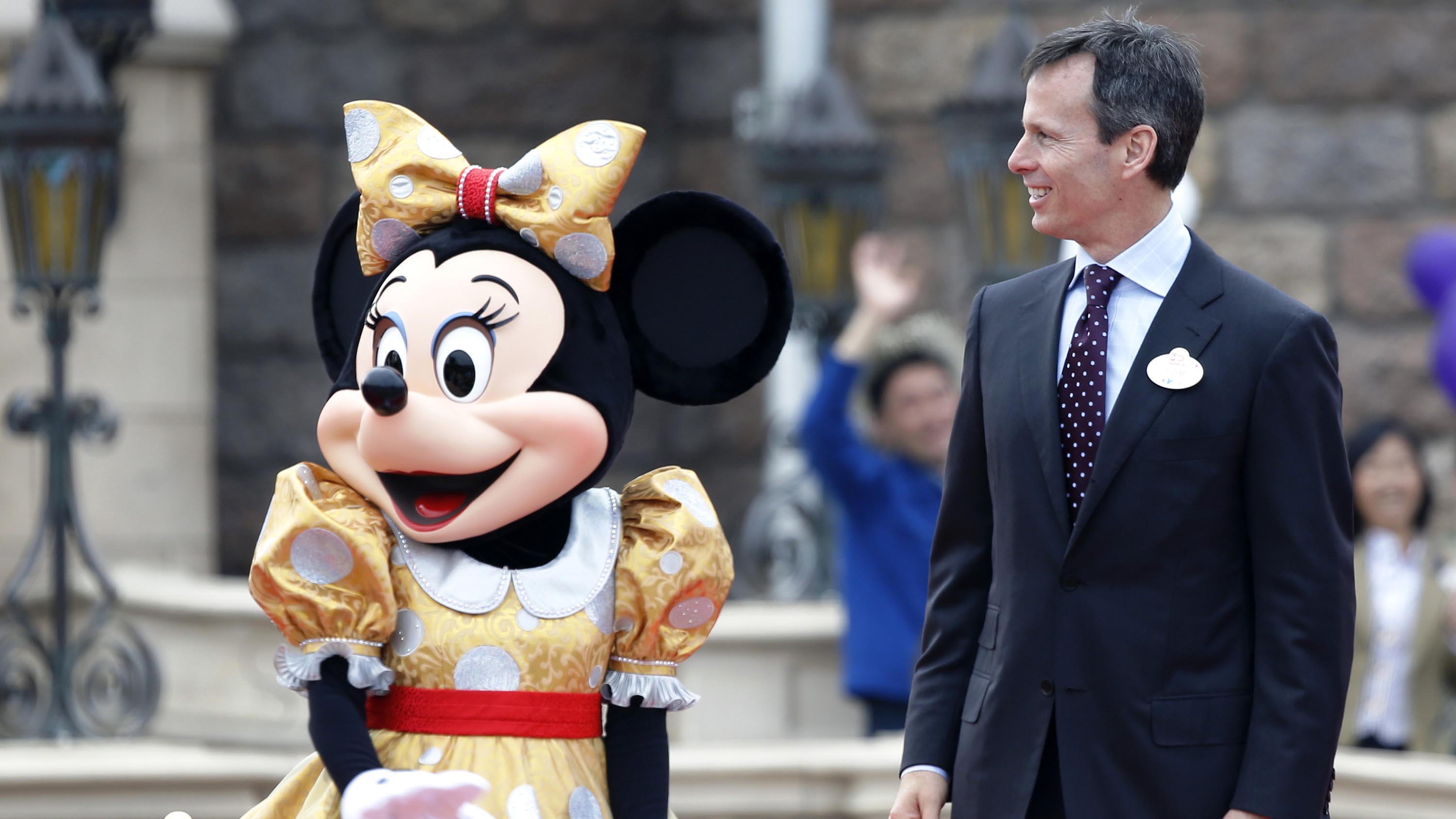 Come September, Thomas Staggs will join a long list of one-time high-flyers at Walt Disney Co. who left the company. He probably shouldn't worry about landing on his feet.
The chief operating officer of Burbank, California-based Disney -- and until Monday the heir apparent to Chief Executive Officer Bob Iger -- has history on his side. Executives whom Iger showed the door have gone on to high-profile jobs, including Rich Ross, the former head of Disney's film studio, who now runs Discovery Communications Inc.'s Discovery, Animal Planet and Science channels. There's also Andy Mooney, who headed Disney's consumer products unit. He had a tumultuous run at surfwear retailer Quiksilver Inc. and now serves as CEO of guitar maker Fender Musical Instruments Corp.
Those gigs don't have the cachet of running the world's largest entertainment company, of course. But while Staggs, 55, didn't get the job he was gunning for, there are still likely to be plenty of opportunities for an executive with his experience, which includes 10 years as Disney's chief financial officer and five atop the company's theme-park division, the world's largest.
"He's likely to have any number of big and positive offers, " said Bill Simon, who heads the media and entertainment practice at Korn/Ferry International in Los Angeles. "There will be a lot of people targeting him for large-scale opportunities."
Staggs is exiting the company after failing to garner the full support of the board to succeed Iger, according to people familiar with the matter. The executive has spent most of his career at Disney, joining the company in 1990 when he was 29, after working briefly at Morgan Stanley as an investment banker.
Disney is famous for succession-related bloodletting. And some losers have done well for themselves. Just look at Jeffrey Katzenberg, who back in the '90s badly wanted to succeed then-CEO Michael Eisner. Katzenberg, who departed after Eisner wouldn't make him president, went on to co-found DreamWorks SKG and now runs its animation spinoff.
The Iger succession race prompted some senior executives to bail. Anne Sweeney, formerly co-head of Disney's TV networks division, said she wanted to direct films and TV shows. She joined Netflix Inc.'s board and has lectured at Harvard University. Former Chief Financial Officer Jay Rasulo, who stepped down last year after Staggs's promotion, invested this year in MovieLaLa, a social network that helps studios market films to specific fan groups. "MovieLaLa sparked my interest, having worked at a company that distributed large films for a long time," Rasulo said in an interview in January.
Other former Disney executives have also taken positions at smaller companies, such as Matt Ouimet, the former president of Disneyland who now runs publicly traded amusement park operator Cedar Fair LP, and former ESPN CEO Steve Bornstein, who heads video game maker Activision Blizzard Inc.'s e-sports unit.
Some former executives may even get a chance to come back. Steve Burke, the former head of Disney's ABC network, now runs Comcast Corp.'s NBCUniversal and is considered by some a possible Iger heir, should Disney's board try recruit him.
Disney has said it plans to broaden the search for Iger's successor. The company hasn't yet hired an executive recruiter to aid in that effort.
Staggs, meanwhile, will be free to seek a new job soon. Under a negotiated deal, Staggs will be COO until May 6 and then work as an adviser to the CEO for five months, after which his contract expires. He'll get his full salary and earn his bonus during that time.