Caspersen Duped Family, Friends for $14 Million, PJT Alleges
by , , and
PJT says its review showed that banker switched invoices

Firm says fraud began almost a year earlier than U.S. stated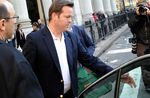 Andrew Caspersen, the banker accused by prosecutors of defrauding investors of $25 million, duped family and friends of an additional $14 million, according to a regulatory filing by his former employer, PJT Partners Inc.
Caspersen engaged in "a number of unauthorized and unlawful transactions," the New York-based investment bank said Friday in the filing. "They consisted of schemes Caspersen presented to his family and personal network to make investments in entities formed by him with names resembling parties in legitimate Park Hill transactions." Park Hill is a PJT unit that employed Caspersen until his arrest last month.
PJT alleged in the filing that Caspersen's actions started in late 2014, which is almost a year earlier than what the Manhattan U.S. Attorney's office and Securities and Exchange Commission outlined in complaints on March 28. Caspersen replaced $8.9 million of legitimate invoices prepared by the firm with false ones to help him misdirect funds, PJT claims.
"No clients of Park Hill were actual parties in Caspersen's transactions, which were conducted by Caspersen acting alone," PJT said. Caspersen's attorney Dan Levy didn't immediately return a call seeking comment.
Facing Charges
PJT said Caspersen was terminated for cause and all of his deferred compensation was forfeited. Caspersen, who worked for Park Hill since 2013 when it was still a part of Blackstone Group LP, was arrested on March 26, according to Manhattan U.S. Attorney Preet Bharara. He's charged with securities fraud and wire fraud and faces a maximum prison term of 20 years on each count. He was released from custody on a $5 million bond.
Caspersen misled James McIntyre, an investor at Louis Bacon's hedge fund firm, who sank $24.6 million of funds associated with the firm's charity and another $400,000 of his own, a person familiar with the investigation said this week. McIntyre was a former Princeton University classmate of Caspersen.
"The company discovered these deceptions shortly after being alerted by Moore Capital Management to the investment scheme," PJT said in the filing. "At no time did Mr. Caspersen have access to or control over the bank accounts, financial system or financial records of Park Hill."
Before it's here, it's on the Bloomberg Terminal.
LEARN MORE