Blanchard Favors QE Over Negative Rates as Pill for Dull Economy
by and
Negative rates have side effects, says ex-IMF chief economist

Says global demand is weak, economic growth remains slow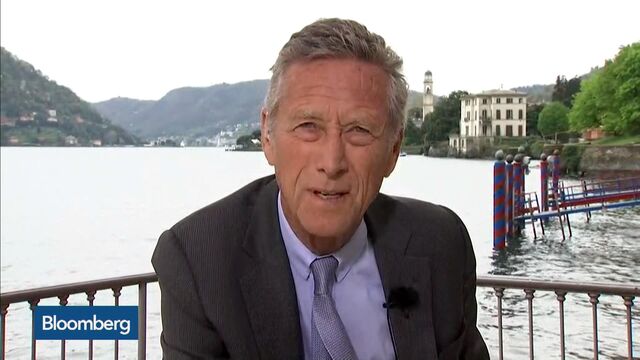 Former International Monetary Fund Chief Economist Olivier Blanchard said central banks should focus on quantitative easing rather than rate cuts if more stimulus is needed to boost their economies.
Describing the economic outlook as "not exciting," he said that global demand is weak and growth is sluggish, and this may be the case for some time.
"The recovery is very slow, some people worry very much that it may stop -- my own view is no, it's slow," he said in a Bloomberg Television interview with Tom Keene and Francine Lacqua on Friday. "Growth is going to stay low for a long time. As a result consumers are not eager to spend, firms are not eager to invest -- and that is going to slow down further the recovery."
Blanchard, now a senior fellow with the Peterson Institute for International Economics in Washington, spoke at the Ambrosetti Workshop in Cernobbio, Italy, an annual gathering of academics and policy makers. He said that if monetary policy needs to be ramped up again, his preference would be for asset purchases as the primary tool. He also said it's too early to make a final judgment on negative rates, and they have side effects.
"I don't like it, I think it interferes with the business of banks in ways that
are very complex," he said. "If they do something on the macro side, I much prefer what we now call regular QE."

'Helicopter Money'
Also speaking in Cernobbio, Jacob Frenkel, chairman of JP Morgan Chase International and former governor of the Bank of Israel, said it's a mistake to put all the onus of carrying the global economy on central banks. He was dismissive of using so-called helicopter money.
"The nature of the problems in the world economy today cannot be solved by monetary policy," he said. "As much as you push on this string, it's not the Fed, it's not the ECB, its not the Bank of Japan, it's governments that need to do the structural measures, measures to improve productivity."
"Helicopter money is not a policy -- it's a way to describe the notion that you need to get money into hands of consumers and investors so that they can spend and consume and invest," he said. "What they need is not money. What they need is confidence and productive opportunities in front of them."
Before it's here, it's on the Bloomberg Terminal.
LEARN MORE