13 North Korean Workers at Restaurant Abroad Defect to South
by
Workers represent largest group defection to South in years

They decided to defect after watching South Korean TV shows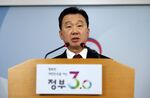 Thirteen North Koreans working at an overseas restaurant have defected to South Korea in the largest group exodus in years -- a sign that sanctions against the Kim Jong Un regime may be taking their toll.
The North Koreans decided to defect after their business took a hit from economic penalties imposed against their country for its nuclear test in January, Unification Ministry spokesman Jeong Joon Hee said Friday at a televised briefing. Pressure to pay hard currency to the government in Pyongyang had increased, and South Korean TV shows and movies they watched on the internet also encouraged them to defect, he said.
In recent months South Korea has urged its nationals to refrain from visiting North Korean restaurants in an effort to cut sources of cash for the regime. In early March, South Korea joined the U.S. in convincing the United Nations Security Council to pass new sanctions targeting North Korea's banks, freight vessels and mineral exports -- a key source of income for the Kim regime.
"The fact that this type of mass defection took place with the sanctions in place is unique," Jeong said. He urged North Korea to avoid retaliating against family members of the defectors who still live in the dictatorship.
The defectors arrived in South Korea on Thursday, and 12 of them are women, Jeong said. Most North Koreans working at overseas restaurants come from middle-class families and are vetted for their loyalty before being sent abroad, he said.
North Korea operates a network of restaurants in China and other parts of the world to earn hard currency. Jeong didn't say which country the North Koreans worked in before defecting. Previously a group of nine North Koreans came to South Korea in 2011, he said.
Before it's here, it's on the Bloomberg Terminal.
LEARN MORE