`Mad Punter' Says He'd No Idea Misleading Market Was Illegal
by
Five men on trial in biggest U.K. insider-trading case

Iraj Parvizi was cautioned by the judge over his comments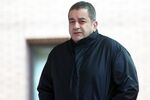 A trader on trial in the U.K. for insider dealing said he had no idea that spreading false rumors about companies was against the law.
Iraj Parvizi was cautioned by the judge that he didn't have to answer questions about criminal offenses he hadn't been charged with, after he spoke about circulating mis-information to other traders, brokers and journalists.
When asked by the prosecution if he had any handle on market regulation, he said: "You can buy stock, you can sell stock." He said he didn't know misleading the market with rumors was illegal and that he thought the only trading offense was insider dealing, which is what he is on trial for.
"Not only do I have no idea, if there are reporters in the room you should definitely put this in the press," so every other trader in the world can know, said Parvizi. He said the whole market operates on false rumors.
The prosecution of Parvizi and four others, including former Deutsche Bank AG managing director Martyn Dodgson, is the largest insider-trading trial ever held in the U.K. Prosecutors allege that Dodgson and Andrew "Grant" Harrison, an ex-stockbroker at Panmure Gordon & Co., passed price-sensitive information to accountant Andrew Hind, who gave it to Parvizi and day trader Benjamin Anderson. The investigation, dubbed Operation Tabernula by the regulator, started in 2007.
False statements
"What I suggest is that if you deliberately put about false statements," knowing that other people may trade on them, that is an offense, said Mark Ellison, the prosecutor for the U.K. Financial Conduct Authority.
Parvizi said people in the market would embellish or exaggerate what they had heard or wanted others to believe, a practice he called adding "VAT," a reference to the British value-added tax on sales. He offered Ellison an example, telling the prosecutor: "You're a very, very handsome man." The courtroom erupted in laughter.
Judge Jeffrey Pegden told Parvizi he didn't have to say anything in response to the prosecution's questions about an offense under English law of making deliberately misleading statements to the market. It is a criminal offense in the U.K. to make false statements in the market that could create a misleading impression.
Parvizi was nicknamed the "Mad Punter" by other market traders because of his willingness to wager on anything. He told the court he once bet 5,000 pounds ($7,060) on which wall a fly would land on and that it was "100 percent" fair to say he was addicted to gambling.
The FCA claims the group traded tips between 2006 and 2010 that helped them make 7.4 million pounds from six stocks, including Sky Plc and Legal & General Group Plc. The trial has been running since January. All five men deny the charges.
Before it's here, it's on the Bloomberg Terminal.
LEARN MORE