Photographer: Andrew Renneisen/Getty Images
Yellen Says U.S. Near Full Employment, Some Slack Remains
by , , and
Bernanke, Greenspan, Volcker, Yellen Speak on Same Panel

Fed's 2% inflation target is a goal, `not a ceiling'
Federal Reserve Chair Janet Yellen said she continues to see some slack remaining in the U.S. labor market even as the economy shows "tremendous progress" following the financial crisis and the worst recession since the Great Depression.
"We are coming close to our assigned congressional goal of maximum employment," Yellen said Thursday in New York on a panel with three of her predecessors. Many measures of unemployment, she said, "really suggest a labor market that is vastly improved."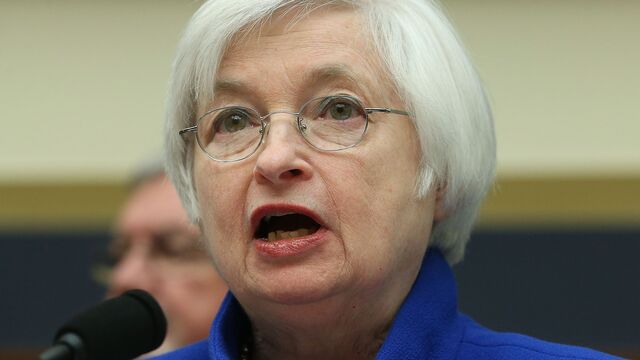 Still, Yellen said, other broader measures of underemployment are "higher than one would expect" and show that some slack remains.
Unemployment in the U.S. has been at or below 5 percent since October, down from 10 percent in October 2009. Jobless claims have been lower than 300,000 a week for more than a year, signaling firings remain at a very low level given the size of the labor force.
Yellen said most members of the Federal Open Market Committee anticipate unemployment will continue to drop, overshooting somewhat what Fed officials see as its lowest sustainable level.
Inflation Goal
She added that the committee is not aiming for a level that will drive inflation above the Fed's 2 percent target.
"But it's also the case that 2 percent is our goal, and it's not a ceiling," she added.
Yellen, who in 2014 became the first woman to lead the U.S. central bank, discussed monetary policy and their approaches to leading the U.S. central bank with Ben S. Bernanke, Alan Greenspan and Paul Volcker.
The first time the four Fed chiefs have gathered for a joint public appearance comes as policy makers approach a crossroads: Tighten borrowing costs too quickly, choke off the expansion and be forced to add stimulus again, or keep rates low, run the risk of stoking inflation and overheating an economy already close to full employment.
Tightening Policy
The Fed started raising interest rates from zero in December, and has since struck a cautious tone amid increased volatility in financial markets and uncertainty about global growth. Policy makers debated an April rate hike at the last meeting of the FOMC, with several leaning against such a move because it would signal a wrong sense of urgency and some saying it might be warranted.
Officials currently predict they'll raise rates twice this year, while investors see a less than 50 percent chance that the Fed will tighten borrowing costs even once.
While the domestic economy is expanding, with solid gains in employment underpinning consumer spending, persistent global risks threaten to derail the recovery. Policy makers are concerned that slowing world growth could reduce corporate investment plans and restrain U.S. exports, according to the minutes of the FOMC's March 15-16 meeting.
Greenspan, reflecting on international woes he confronted while Fed chairman in the 1990s, said global developments must inevitably be taken into account by U.S. policy makers.
Global Repercussions
"It would be foolish to believe that we can act in an isolated manner from the rest of the world," he said.
Yellen, responding to criticism that the current Fed doesn't take emerging-market concerns sufficiently into account, said she and her colleagues carefully consider the impact of their actions on the rest of the world.
"We do look very carefully and try to minimize adverse spillovers where possible of our policies," she said. "One thing we can do to minimize volatility around policy changes is to communicate as clearly as we can how we're framing policy to attempt to avoid surprises."
Yellen said in a March 29 speech that, given the downside risks to the global outlook and the proximity of the zero boundary on interest rates, it would be appropriate to "proceed cautiously in adjusting policy."
Meeting Minutes
The minutes published Wednesday echoed those remarks, noting the FOMC had room to raise rates if the economy turned out to be stronger than anticipated, while having less room to ease if growth softened.
"This asymmetry made it prudent to wait for additional information regarding the underlying strength of economic activity and prospects for inflation before taking another step to reduce policy accommodation," the minutes said. The FOMC holds its next meeting on April 26-27.
Central banks in Europe and Japan have resorted to negative interest rates and bond purchases to stimulate their economies and raise inflation. In China, the central bank is trying to underpin the economy as it transitions from export-driven growth to a consumer-led expansion.
Before it's here, it's on the Bloomberg Terminal.
LEARN MORE