Yellen Not as Worried About Too-Big-to-Fail Banks as Kashkari
by
U.S. banking system is safer, sounder, Fed chief says

Bank oversight is board's role, not district banks, she says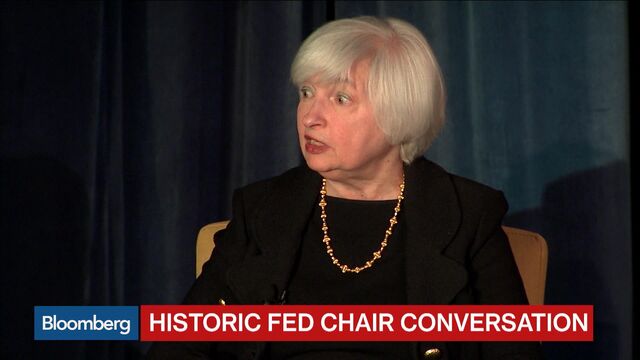 Federal Reserve Chair Janet Yellen said she isn't as concerned about the threat too-big-to-fail banks pose for the U.S. economy as Minneapolis Fed President Neel Kashkari appears to be.
Regulators have put policies in place "that have greatly enhanced the safety and soundness of the banking system," she said during a panel discussion in New York with predecessors Ben S. Bernanke, Alan Greenspan and Paul Volcker.
While "I certainly share President Kashkari's concern" about the possibility some banks are still too large to be allowed to fail by the government, "I feel more positive on the progress we have made" with improvements to financial oversight because of the Dodd-Frank law, she said.
Kashkari has made addressing the issue of too-big-to-fail banks a goal this year at the Minneapolis Fed. Yellen noted during her remarks that bank supervision and regulation is the purview of the Fed board, not district banks.
Reserve bank presidents "all engage in research on topics" that interest them and "we've encouraged that in the Federal Reserve system," Yellen said. "We don't want to fall into groupthink, and I think it's within his purview to look at these issues."
Before it's here, it's on the Bloomberg Terminal.
LEARN MORE