VW's Powerful Unions on Attack as Diesel Crisis Threatens Jobs
by
Labor Chief Osterloh says management `lacks reliability'

Chairman Poetsch took a 10 million-euro payment in October
The rift between Volkswagen AG's workers and executives deepened after powerful labor leaders said they lost faith in management of its main car brand and demanded job protections amid the towering cost of the carmaker's cheating on emissions.
In a letter published on labor union IG Metall's website, union leaders attacked management of the namesake passenger-car brand for trying to use the scandal to push through deep cutbacks and called for a comprehensive agreement to safeguard German workers and factories. The strongly-worded letter drew a diplomatic response from Volkswagen, which offered to start negotiations.
"We have the impression that the diesel scandal is being used as a back door to undertake personnel cuts that wouldn't have been on the agenda a few months ago," Bernd Osterloh, the works council chief and a supervisory board member, said in the letter. "The brand's management board lacks reliability."
Workers, which control half the seats on Volkswagen's supervisory board and have special rights that enable them to veto plant closures, have grown increasingly uneasy as the company continues to assess the damage from the scandal and weighs cost-cutting measures that could cull jobs. Workers have unusually strong sway at Volkswagen, in part because of their political influence in the state of Lower Saxony, which has two seats on the supervisory board and often sides with the carmaker's staff as a result.
Poetsch Payment
The escalation comes at a sensitive time for Volkswagen as it faces an April 21 deadline to complete talks with U.S. authorities over a solution for nearly 600,000 tainted cars there. Later this month, the company is also set to report findings from an investigation into how the manipulation started and was covered up for so many years.
Osterloh's letter coincided with scrutiny of a generous payment for Chairman Hans Dieter Poetsch in a report in Der Spiegel on Thursday. The executive could be entitled to about 10 million euros ($11.4 million) after switching from his better-paid chief financial officer job to take on the chairmanship role last year.
While Volkswagen didn't directly confirm the payment, it said it stood by its contractual obligations to its employees, including Poetsch. Still, the appearance of benefiting from the scandal could harm the Volkswagen veteran's credibility as he seeks to guide the carmaker out of the crisis, which has slashed 20 billion euros off its market value.
The growing tension has also involved labor leaders objecting to generous bonuses for other top executives, who aren't willing to forgo the payments, according to the Der Spiegel report. Volkswagen paid out 54 million euros in variable remuneration to management-board members in 2014. The company has so far set aside 6.7 billion euros for repairs for affected cars and delayed 2015 earnings amid uncertainty over further costs for the scandal.
Poetsch made 6.8 million euros as CFO in 2014. That year former Chairman Ferdinand Piech earned 1.48 million euros. Volkswagen will disclose later this month what its top managers were paid last year as its reputation was imploding due to the cheating software the company installed in some 11 million cars worldwide.
'Grave Problem'
In Thursday's letter, Osterloh demanded a wide-ranging agreement to secure Volkswagen's German workforce, similar to an accord reached 10 years ago when Wolfgang Bernhard, the VW brand chief at the time, was pushing for cost cuts. The reference was a thinly-veiled threat to Herbert Diess, the unit's current boss. Bernhard's dispute with workers ultimately led to him being pushed out.
Volkswagen personnel chief Karlheinz Blessing responded to the letter by saying he welcomed the offer to negotiate about the long-term future of Volkswagen's employees and facilities. "We will lead the talks swiftly and constructively," he said in a statement.
Watch Next: The Long Rise and Rapid Fall of Volkswagen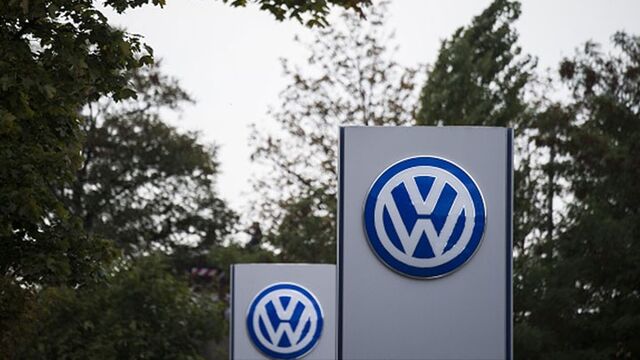 In a separate April 5 letter to staff obtained by Bloomberg, seven union officials including Osterloh said they see a "grave problem of trust" with the VW brand's management, which is led by Diess, who joined the company from BMW AG last year. Bernhard was also a newcomer to Volkswagen before he ran afoul of labor.
Before it's here, it's on the Bloomberg Terminal.
LEARN MORE