Valeant Shares Have Best Three-Day Run in Almost 20 Years
By and
Stock gains 36 percent since Monday, best stretch since 1996

Drugmaker has yet to file annual report, name new CEO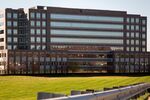 For the first time in a long time, this week was a very good one to own stock in Valeant Pharmaceuticals International Inc.
Since Monday's close, Valeant shares have gained 36 percent, the best three-day run for the shares since 1996, a period that includes the company's predecessor Biovail Corp. Valeant gained 3.9 percent on Thursday to close at $35.51 in New York trading.
"It seems like it has found a bottom," said Annabel Samimy, an analyst at Stifel Nicolaus & Co. "You've got some clear turning of sentiment. Some of the bigger uncertainties that seemed to spook everyone and create a climate of fear have been resolved." Samimy has a buy rating on the stock, and a 12-month price target of $65, cut from $200 in March.
Valeant has been through a brutal eight months since the shares peaked at $262.52 on Aug. 5. The company was criticized for charging high prices for its drugs, has been investigated by Congress and the SEC and said it will restate earnings. It also cut guidance and said that Chief Executive Officer Mike Pearson will leave once a successor is found.
In the last week, however, a key board member said the drugmaker could have a new CEO within weeks, the company announced that an internal board probe had found no new major issues, and that it had reached an agreement with lenders over the terms of its debt, lessening fears of a potential default.
"This is a company that's worth $0 if it's in default, or it's worth significantly more than $35 or $36 a share because the underlying assets have value," said Raghuram Selvaraju, an analyst with Rodman & Renshaw. He has a buy rating on the stock.

The company has a long way to go -- the stock is still worth about $230 a share less than back in August -- but the gains this week suggest that at least for some investors, there could be a bargain available, or that stock has finally bounced off the floor.
"If you're smart enough to get your arms around where you think the business is, and it looks OK to you, it's probably a good value," said Walter Todd, who oversees about $1.1 billion as chief investment officer for Greenwood Capital Associates LLC in South Carolina. "There's a risk-return tradeoff." Todd doesn't own the stock, and said there's still skepticism about what the company's actual performance is.
While the company's shares may have had a good few days, that's not enough to convince investors who have watched as Valeant went through one of the biggest annihilations of market value in recent history.
Laurie Little, a Valeant spokeswoman, declined to comment.
Risk Remains
The Laval, Quebec-based drugmaker, which is run from New Jersey, has yet to schedule the release of its first-quarter results, and its 2015 report has been delayed because of the earnings restatements. In addition, it remains to be seen if there's any remaining fallout from Valeant's now-terminated relationship with the mail-order pharmacy Philidor Rx Services LLC, and how the company's drugs perform through their new distributor, Walgreens Boots Alliance Inc.
The stock still "just has too many headline risks," said Robert Pavlik, who helps oversee $9.1 billion as chief market strategist at Boston Private Wealth. "It has to be for somebody who's probably pretty aggressive in their approach. Who knows what's going to transpire with the company? I don't want to be near it right now."