Finally, Some Force in the Labor Force
There's been a spike in Americans working or seeking jobs.
By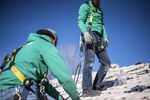 Emboldened by strong demand for workers, Americans have flooded into the U.S. labor market over the past six months at the fastest pace since at least 1948. Many have found work, while others are still looking. Either way, their presence allows employers to hire more workers without having to get into a bidding war with competitors.
The rapid expansion of the workforce has helped justify the decision of the Federal Reserve under Chair Janet Yellen not to raise interest rates in March. With plenty of workers available, companies can expand hiring without having to jack up wages, which could contribute to inflation. "Yellen's labor market call is panning out," Michael Feroli, the chief U.S. economist of JPMorgan Chase, headlined his analysis on April 1. "Yellen wagered that participation would pick up in a high pressure labor market," he wrote, "and so far she's looking pretty smart."

Unfortunately, Feroli and many other economists believe the surge won't last. They predict that as more baby boomers retire, the share of the population that participates in the labor force will resume the downward slide that began in 2000. That will complicate the Fed's job.
To grow without excessive wage inflation, the U.S. economy needs a big group of active workers as well as a smaller group of people who are available and looking for jobs. Those two groups combined make up the labor force—which has never added more workers than it has over the past six months. (It officially grew a bit faster from late 1999 to early 2000, but that was a statistical fluke related to U.S. Census Bureau population estimate revisions.)
Economists focus on the labor force participation rate, the size of the labor force as a share of the entire civilian population age 16 and over that's not in prison or other institutions. It rose for 35 years as more women entered the workforce, peaking at 67.3 percent in 2000. It fell slowly until 2008, then rapidly during and after the deep recession, touching bottom at 62.4 percent last September. It's now 63 percent.
JPMorgan's Feroli estimates that demographic forces will continue to push down the labor force participation rate by 0.25 percentage points a year. A strengthening economy should help offset the drag for a while, but that still leaves a projected annual decline of 0.15 percentage points in the labor force participation rate from here on. "Essentially," Feroli wrote in an e-mail, "we are at the peak."
David Mericle, a senior U.S. economist at Goldman Sachs, reached a similar conclusion in early March. He broke down the decline and recent rebound in the participation rate into its various components, including retirement, disability, discouragement, and school enrollment. Some discouraged workers on the sidelines could still come back to work, but otherwise, he wrote, "We now view the cyclical participation gap as within 0.1-0.2 percentage points of being closed."
The pessimists could be surprised if more of the roughly 600,000 discouraged workers reenter the labor force. While their ranks have fallen from 1.3 million in 2010, they could drop further: There were fewer than 300,000 discouraged workers in 2000.
Another source of workers could be people working from their kitchen tables or dens. Says Mike Wachholz, president of Pontoon Solutions, a human resources outsourcing firm in Jacksonville, Fla., that's a unit of Switzerland's Adecco: "More and more of our clients are getting comfortable with having workers who aren't on site or even in the region."
The bottom line: The record expansion of the labor force is good news, but don't expect it to last. Baby boomers are still retiring in droves.
Before it's here, it's on the Bloomberg Terminal.
LEARN MORE