U.S. Says Israel Gas May Help Europe Diversify From Russian Fuel
by and
Israel natural gas fields potentially largest in Mediterranean

Gas exports can be used in `strategic way' in region, beyond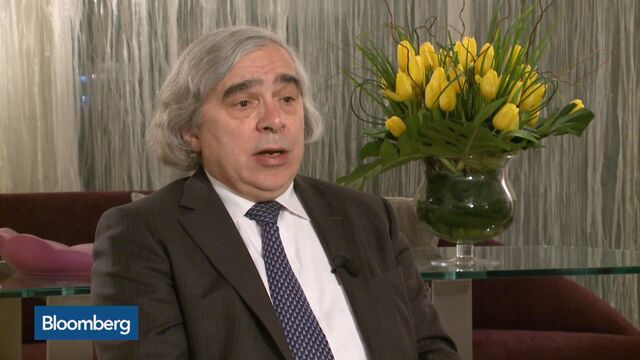 Israel's offshore natural gas fields, potentially the largest in the Mediterranean Sea, could boost energy trade in the region and even help Europe diversify away from Russian fuel, according to U.S. Energy Secretary Ernest Moniz.
The U.S. hopes Israel can resolve domestic challenges blocking development of its Mediterranean gas field "in a timely way," considering that they contain substantial quantities for exports, Moniz said in an interview with Bloomberg Television. Israel's gas exports "can be used in a strategic way" in the region and beyond, he said.
"First and foremost there is a very clear economic and energy security benefit to producing the field," Moniz said. Gas from Israel can be shipped to Turkey, where it can be pumped through pipeline networks from the Caspian Sea to Europe, he said. Israeli gas can help in "diversifying supplies away from Russia for Europe." Israel can also export gas to its Arab neighbors, such as Egypt and Jordan, he said.
$20 billion
Israel's development of the $20 billion Leviathan gas field faces new delays following a decision last month by the country's highest court blocking the government's proposal to prevent major regulatory changes for 10 years. Houston-based Noble Energy Inc., which is leading the project, saw its shares plummet nearly 8 percent and the company was downgraded to hold from buy at Tudor Pickering Holt & Co., on the basis that the ruling may put its expansion at risk.
"The U.S. has a strong interest in this because energy security is a collective enterprise," Moniz said. Companies that are going to be engaged in this or other future fields are "clearly going to want to understand also the opportunities for export markets."
The natural gas discovered off Israel's Mediterranean coast is sufficient to meet the country's energy's needs for decades, with surplus for export, developers say. The Tamar field holds about 10.8 trillion cubic feet of gas and Leviathan about twice that amount. The developers have signed deals to export fuel to neighboring Jordan, and have been in negotiations to ship fuel to Egyptian plants where it would be converted to liquid natural gas for possible export to Europe.
Iran Deal


Moniz, a key negotiator for the U.S. administration on the agreement to curb Iran's nuclear ambitions, said Prime Minister Benjamin Netanyahu now accepts the agreement after denouncing it in a speech to Congress last year as a threat to Israel's existence. The agreement "was focused exclusively on removing the existential threat of a nuclear weapon," Moniz said.
Moniz spent two days this week in Israel where he signed an agreement with Energy Minister Yuval Steinitz to expand cooperation on alternative fuels and water desalination.
The Iran deal has allowed the Islamic Republic to increase crude supplies, with a "fair amount of reserves" being marketed, he said. The Persian Gulf country still faces challenges in attracting about $150 billion in investment needed to rehabilitate its energy industry and boost production to pre-sanctions levels, he said.
"I just don't see how those resources are going to be attracted on a very short time scale," he said. "I think they will build up and they will build up over time. How fast it goes, I can't say, but we do know the capital requirements are quite significant."
It is "hard to imagine" that Iran would join a proposal for a crude output freeze by members of the Organization of Petroleum Exporting Countries and other producers to help curb the global glut. Iran has been explicitly saying that it has no intention to restrain its attempt to ramp up crude production to recapture market, he said.
Before it's here, it's on the Bloomberg Terminal.
LEARN MORE