U.S., Russia Said to Team Up to Draft New Syria Constitution
by
Discussions at early stage; Russian ideas closer to Damascus

Syrian opposition says it opposes U.S.-Russian driven process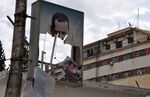 Russia and the U.S are working on drafting a new constitution for Syria, according to three Western and Russian diplomats, in the clearest sign yet of the two powers' determination to broker a solution to a five-year civil war that has sent a wave of refugees toward Europe.
The joint efforts are at an early stage, and Russia's current proposals are closer to the Syrian government's position, said one Western diplomat. The two countries are continuing to exchange ideas, a Russian diplomat said. All three envoys spoke on condition of anonymity because the discussions are confidential.
The U.S agreed with Russia on a target of August to create a framework for a political transition and a draft constitution for Syria, Secretary of State John Kerry said after talks in the Kremlin on March 24. The United Nations is leading peace talks in Geneva where the government and opposition are negotiating a settlement.
The interests of the U.S. and Russia are converging as they step up a campaign against Islamic State, which has used its base in Syria and Iraq to expand across the region and plot terrorist attacks. A solution to the Syrian conflict has become increasingly urgent in Europe, which is struggling to cope with the rising jihadist threat and the biggest refugee flows since World War II.
A partial cease-fire brokered in February by the U.S. and Russia has significantly curbed violence in the civil war, which has killed 250,000 people and forced millions to flee their homes. But the two countries continue to disagree on the fate of Syrian President Bashar al-Assad, even if the Obama administration has softened demands for his immediate ouster.
Without Assad stepping aside, "there will not be peace in Syria," Kerry said last month on CBS's "Face the Nation" program. "You can't end the war while Assad is there."
Syria's main opposition group, the High Negotiations Committee, said it opposes a process of defining the new constitution that's driven by the U.S. and Russia.
"The Syrian constitution belongs to the Syrian people, not the U.S. or Russia," said Farah al-Atassi, a spokeswoman for the HNC. "When we form the transitional governing body with full executive powers, we will appoint Syrian lawyers, judges and experts to draft a new constitution."
Major powers endorsed a road map in November that would establish a transitional ruling body with full executive authority in Syria of government and opposition members within six months. This would lead to internationally supervised elections under a new constitution a year later.
The pan-Arab newspaper Al Hayat reported on April 1 that Russia gave a proposed draft of a new Syrian constitution to Kerry during his visit to Moscow last month. The U.S. is studying the proposals, which were based on documents by legal experts close to the government, Al Hayat said, citing an unidentified person familiar with the matter.
When asked about the comments, Deputy State Department spokesman Mark Toner cited a statement by Kerry two weeks ago saying that the U.S. and Russia had "agreed on a framework schedule for a Syrian-led political transition by August, which would include a new constitution."
Asked about the new constitutional structure for Syria, Russian Foreign Ministry spokeswoman Maria Zakharova told reporters Wednesday that Russia and the U.S. are ready to assist the process by proposing their ideas. "This is about helping the process, but of course it is the Syrian people who must decide."
Before it's here, it's on the Bloomberg Terminal.
LEARN MORE