Smets Says ECB Still Has Tools Even Without Helicopter Money
by and
Says ECB could cut interest rates, boost unconventional policy

ECB Governing Council Member Smets speaks in interview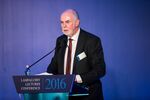 The European Central Bank still has the instruments to counter deflation risks even if it's not ready to embrace more extreme policies such as helicopter money, Governing Council member Jan Smets said.
QuickTake Europe's QE Quandary
"Helicopter money is not on the table, and I haven't seen any thorough analysis on it," Smets, who is the head of the National Bank of Belgium, said in a Bloomberg interview in Frankfurt on Thursday. "If in the future, due to shocks or other developments, financial conditions would warrant it, we have a series of instruments that can be used, which include both interest and unconventional policies."
While Smets joins a chorus of ECB officials underscoring their readiness to ease policy if needed, the comments also indicate central bankers are hopeful the comprehensive easing package announced after their March meeting will help combat too-low inflation.
Smets said it will take time for March's measures -- which included an expansion of quantitative easing to corporate bonds, a bigger monthly spend, rate cuts and long-term loans to banks -- to show their real effectiveness.
Low Inflation
"I don't have any doubts about the efficiency and positive contribution of the new package," he said. "Every aspect of the package is important, but taken together it is signaling the determination of the Governing Council to do whatever is necessary to fulfill its mandate."
The use of helicopter money has emerged amid question marks over the health of the economy and the potential for existing ECB measures to revive inflation. Its aim is to transmit cash as directly as possible to the economy, bypassing usual intermediaries, including banks. While ECB Vice President Vitor Constancio and Executive Board member Peter Praet ruled out the measure on Thursday, Governing Board member Ignazio Visco was more equivocal.
Consumer-price growth in the euro area hasn't reached the ECB's goal of just below 2 percent for three years, with prices falling for a second month in March. Constancio told the European Parliament in Brussels on Thursday "second-round effects" -- where weak inflation is being transmitted to wages and contracts -- are now visible.
"A protracted period of low inflation is really bad," Smets said. "We are not conducting policy in a laboratory but in a real world that, fortunately or unfortunately, is changing and will keep changing. The fact that outcome may be a bit disappointing doesn't mean that the policies don't work but that without them the situation would be worse."
Clear Communication
Accounts of the March 10 Governing Council meeting published on Thursday showed that policy makers considered a bigger cut to the deposit rate, before deciding to reduce it by 10 basis points to minus 0.4 percent.
"Our communication is clear that we'll keep interest rates at the actual or lower level," Smets said. "Any further decision will obviously have to be thoroughly examined, but you cannot say that this door has been closed."
In the Bloomberg interview, Smets also responded to critics of the ECB. Banks in the euro area have complained that negative rates are squeezing their profits at a time when they are expected to boost lending to the economy.
"I don't see a financial system remaining healthy in a bad macroeconomic environment, with a protracted period of low inflation or with secular stagnation," Smets said. "Banks should also think of the beneficial impact of our monetary policy on credit volumes, on its impact on credit quality and the provisions they must make, on the capital gains."
Before it's here, it's on the Bloomberg Terminal.
LEARN MORE