Seven & I CEO Resigns After Clash With Board, Activist Loeb
by , , and
Departure caps more than 50 years at Seven & i, affiliates

Loeb had warned against CEO positioning son as successor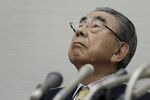 Seven & i Holdings Co. Chairman and Chief Executive Officer Toshifumi Suzuki is stepping down after a power struggle with the board of directors at Japan's largest retailer, handing a victory to activist investor Dan Loeb.
Suzuki, 83, wasn't satisfied with Seven-Eleven Japan President Ryuichi Isaka and asked him to resign, he told reporters at a briefing Thursday in Tokyo. Seven & i's board came one vote short of approving a proposed management reshuffle, which included removing 58-year-old Isaka. Hours after the board adjourned, Suzuki said he decided to retire. No successor was named.
Loeb, who's endorsed Prime Minister Shinzo Abe's efforts to improve corporate governance in Japan, said Suzuki was trying to arrange for his son to succeed him, a claim the CEO denied Thursday. The founder of Third Point LLC said Isaka should instead be a leading candidate for the top job and pushed the company to restructure or divest less profitable units and focus on the convenience store business Isaka oversees.
Suzuki spent more than five decades at Seven & i and affiliated companies. Seven directors voted in favor of personnel changes, Chief Operating Officer Noritoshi Murata said. Six members were against the proposal, and two abstained from voting.

Seven & i earned 352.3 billion yen ($3.3 billion) in operating profit in the year through February, the company said Thursday. Profit for the convenience stores division rose 9.9 percent to 304.1 billion yen, accounting for 86 percent of the total. The shares retraced earlier losses to close 1.6 percent lower at 4,489 yen in Tokyo trading. The stock plunged as much as 8.6 percent before the company said Isaka won't be removed.
"While the uncertainty remains with the long-term leader leaving, many people are likely to take it positively in that this will promote generation transition, helping make the company younger and open it up," said Dairo Murata, an analyst at JPMorgan Securities Japan Co. "This also makes a good example of Japan's corporate governance improving from foreign investors' point of view."
Seven-Eleven's roots in Japan can be traced back to the first store which opened in 1974 in Tokyo under license from U.S. franchise operator Southland Corp. The Japanese chain outgrew its parent and acquired Southland in 1991.
Seven-Eleven Japan also outgrew Japanese general merchandise chain Ito-Yokado Co., and in 2015 the two formed a holding company that became the nation's largest retailer. Suzuki was chairman at Ito-Yokado at the time and that deal was in part born by fear of an outsider trying to seize control. Suzuki alluded to Livedoor Co.'s hostile bid for the radio unit of Japan's biggest media group earlier in 2005 as motivation behind Ito-Yokado selling stock at a discount to Seven-Eleven Japan.
Ito's Rejection
Masatoshi Ito, Seven & i's honorary chairman and a founder of Ito-Yokado, played a crucial role behind Suzuki's failure to unseat Isaka and the subsequent resignation of his long-time colleague, according to Murata's description Thursday of events behind the scenes.
The Seven & i chief operating officer and Suzuki's right-hand man said he had sought Ito's endorsement of a plan to remove Isaka ahead of meetings by the company's nomination committee, believing that the 91-year-old would support it. Ito, whose family owns about 10 percent of Seven & i, rejected the plan, said Murata on Thursday.
"Things changed all of sudden," said Suzuki, adding that Ito didn't give him clear reasons for his disagreement. "Relationships with Mr. Ito had been good and he never rejected my suggestions before."

Suzuki's departure represents a rare win for activists who've tussled with Japan Inc. Those who've tried and failed include Texas oilman T. Boone Pickens and Warren Lichtenstein's Steel Partners Holdings LP.
It remains to be seen whether Loeb gets his way in his push for Seven & i to restructure or divest less profitable units, and the hedge fund billionaire has had his share of disappointments in Japan.
Less than two years ago, Third Point offloaded its stake in Sony Corp. after failing to convince the company to sell part of its entertainment unit. Loeb still managed to cajole the movie studio into cutting costs and walk away with a profit, he said last year.
Before it's here, it's on the Bloomberg Terminal.
LEARN MORE