Seehofer Slams Plan by Merkel's Government to End Border Checks
by
Premier says support for governing parties may slip further

Interior minister said he might stop border checks in May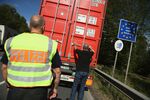 Bavarian Premier Horst Seehofer renewed his criticism of Chancellor Angela Merkel's refugee policies, slamming Interior Minister Thomas de Maiziere's plan to end passport checks on the Austrian border in May.
While that may alleviate the situation in border towns, it's a risk to security and flies in the face of increased checks by countries such as France and Belgium due to terror threats, Seehofer told the Mittelbayerische Zeitung in an interview. De Maiziere didn't inform Bavaria, the main entry point into Germany for refugees, of his plan, Seehofer said.

Merkel's Christian Democratic Union and Seehofer's Bavarian sister party to the CDU may see their approval ratings drop below 30 percent unless they find better solutions to the crisis, the prime minister told the newspaper. Seehofer, Merkel and Sigmar Gabriel -- head of their junior coalition partner, the Social Democrats -- are scheduled to hold a coalition summit in Berlin next week.
Seehofer and Merkel have been at odds for months over how to respond to the biggest inflow of refugees since World War II. Public support for the two parties they lead has taken a hit following the arrival of 1 million asylum seekers last year and Merkel's CDU lost support in three state elections that took place last month.
De Maiziere on Tuesday said he'll halt checks on Germany's frontier with Austria next month if the influx of refugees remains at the current level, which is well below the peak reached in the latter part of 2015. Doing so would restore the free flow of people and goods across the border that is the hallmark of Europe's Schengen agreement.
Before it's here, it's on the Bloomberg Terminal.
LEARN MORE