Sadiq Khan Pledges to Champion Financial Sector as London Mayor
by and
Labour hopeful wants to work with city to build worker housing

Exit from EU would be `ludicrous' and harm capital, Khan says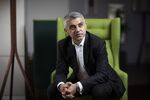 Sadiq Khan, the opposition Labour Party's candidate to succeed Boris Johnson as mayor of London, promised to champion the city's financial sector and work with employers to build homes for staff in the U.K. capital.
Housing is the number one concern of businesses of all sizes, Khan said as he asked banks and other financial-sector companies to provide finance to help solve the crisis of availability of affordable homes in London.
"Multi-nationals and large companies create jobs in our city, but also down the supply chain, and I've spent a lot of time speaking to businesses across the city of London," he said Thursday in an interview with Bloomberg TV at the U.K. headquarters of Twitter Inc. "It's crucial that they feel they'll have a mayor on their side who will be arguing, negotiating, cajoling the government to do the right thing but also going around the world" to promote it.
Khan, who is leading Conservative candidate Zac Goldsmith in opinion polls for the May 5 election, has pledged to freeze transport fares, ensure there is more affordable housing and support business as he seeks to regain the mayoralty for Labour, which lost it to Johnson in 2008.
Khan leads Goldsmith by 35 percent to 27 percent on first preference votes, according to an online survey of 1,015 Londoners by Opinium Research LLP carried out between March 30 and April 3. When second preferences of other candidates are taken into account, he leads by 54 percent to 46 percent, the poll found.
Goldsmith
Khan, who pledged to be "the most pro-business mayor London has ever had," said it is crucial to London's future for Britain to stay in the European Union. Goldsmith, the candidate for Prime Minister David Cameron's Tories, wants Britain to leave the EU and Khan said he will work with Cameron to persuade voters to stay in the bloc.
"The idea we could elect a mayor who wants to leave the EU and is hostile to our European partners, would be taking a real risk with our future," he said. "The idea of turning our back to the European Union -- 500 million potential customers -- and walking away from a market that's led to so many jobs in London, the expansion of so many businesses, is ludicrous."
Khan repeated his pledge to use land owned by Transport for London to build affordable housing and appealed to the financial sector to put up capital for his plans, arguing that their workers are affected by London's high house prices, and not just the low-paid.
"Work with me: if you can provide the finance, I'll make sure some of the homes are available for your staff," Khan said. "There's a place for luxury homes in London, but there aren't enough homes being built in London, there aren't enough genuinely affordable homes. We've got to make sure that there are homes that Londoners who work in London can afford to live in."
Hollowed-Out City
Khan said chief executives of companies have told him that they cannot recruit staff because house prices in the capital are so high. Senior employees have been asking for transfers to regional offices so they can afford to buy a property, he said, without identifying the companies concerned.
"None of us wants a city that's hollowed out," Khan said. "It's good that some of the wealthiest people in the world come to London to start businesses, to expand, to create jobs and prosperity. I want them to work with me to make sure we can fix the housing crisis."
Before it's here, it's on the Bloomberg Terminal.
LEARN MORE