Qatari Royal Family Agent Can Query Picasso Daughter
by and
U.S. judge says artist's relatives can be questioned in case

Ownership of the 1931 sculpture depicting muse is in dispute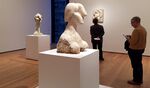 In the latest round in the international skirmish over Pablo Picasso's plaster "Bust of a Woman," an agent for the Qatari royal family won the right to question the artist's daughter and her son about circumstances surrounding its contested sale.
Pelham Europe Ltd. can seek documents and testimony from Maya Widmaier Picasso, daughter of the artist, her son Olivier and art dealer Lionel Pissarro regarding the sculpture's sale, U.S. District Judge William Pauley in Manhattan said late Tuesday. Pelham, an agent for Sheikh Jassim bin Abdul Aziz Al-Thani and the Qatar Museums Authority, can also pursue queries concerning Widmaier Picasso's "mental capacity and health."
The fight over who owns the 1931 sculpture depicting the artist's then mistress and muse, Marie-Therese Walter, has spurred legal actions in the U.S. and Europe. For years it was a prized possession of Widmaier Picasso, a daughter born of the artist's affair with Walter.
Art gallery owner Larry Gagosian sued in January over the dispute, saying he agreed to acquire the sculpture for $106 million last year and took ownership in October. Pelham, in a competing suit filed in February, says it had already struck a deal in 2014 to purchase the work for 38 million euros ($47.4 million at the time of the sale) from Widmaier Picasso in a transaction negotiated by her son. Pelham claims Picasso's granddaughter, Diana Widmaier Picasso, convinced her mother to sell the sculpture to Gagosian, who had planned to resell it to billionaire investor Leon Black.
Pelham can question Maya and her son regarding discussions they had with family members about the sculpture's sale. The request wasn't contested.
Pelham can also question art dealer and adviser Pissarro, who was involved in negotiations with Maya and Olivier over the sale, about any discussions he had with them in 2014. The judge said Pelham can ask Pissarro whether Maya gave any special instructions including "not to involve Diana in the sale of the sculpture in 2014," to sell it only for exhibition in a museum and to prevent it from being used to create any new casts of the work.
The highest price ever paid for a Picasso sculpture at auction is $29.2 million, for a 1941 bronze head of another lover, Dora Maar, that sold in 2007, according to Artnet's price database.
Matthew Dontzin, a lawyer for Gagosian, declined to comment on the judge's
ruling. Pauley has set a trial to begin Sept. 19.
The cases are Gagosian Gallery Inc. v. Pelham Europe Ltd., and Pelham Europe Ltd. v. Gagosian, 16-cv-00214 U.S. District Court, Southern District of New York (Manhattan).
(
Corrects headline, fifth paragraph to reflect request was uncontested.
)
Before it's here, it's on the Bloomberg Terminal.
LEARN MORE