Putin Rejects Offshore Corruption Accusations as 'Rubbish'
By
President says he's `proud' of musician friend in leaked files

Putin links leaks to anti-Russia campaign since 1990s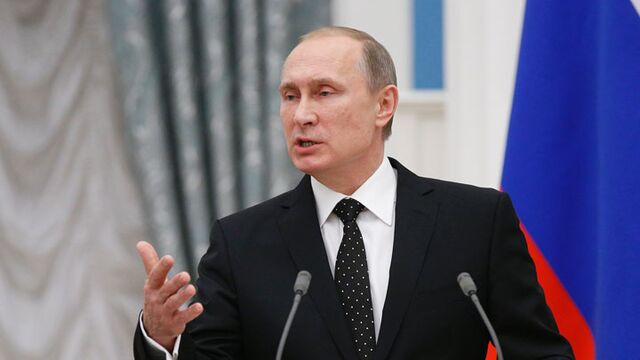 Russian President Vladimir Putin poured scorn on allegations that he's linked to $2 billion in offshore transactions involving people close to him that were disclosed in the so-called Panama Papers.
It's "rubbish" to say he's linked to corrupt schemes and his name isn't mentioned anywhere in the leaked files, Putin said Thursday at the Truth and Justice media forum in St. Petersburg in his first comments on the subject.
Putin said he's "proud" of his classical musician friend Sergey Roldugin, who's been linked to the offshore transactions. Reports on the papers identified him as godfather to the president's elder daughter. Roldugin earns some money as a minority shareholder of one Russian company, but it's "nonsense" to call him a billionaire and he spends most of what he's earned on musical instruments abroad for Russia, Putin said.
Leaked files from Mossack Fonseca, a Panama-based law firm that creates shell companies, show at least $2 billion in transactions involved people and companies that had ties to Putin, according to reports published on Sunday by the International Consortium of Investigative Journalists. The allegations are part of a "disinformation" campaign to destabilize Russia by targeting Putin, Kremlin spokesman Dmitry Peskov said Monday.
The leaked documents are part of attempts to "shake" Russia from within, Putin said. He linked them to what he said was a Western campaign against Russia that began when it opposed the bombing of Belgrade by the North Atlantic Treaty Organization in 1999 against the regime of Serbian leader Slobodan Milosevic.
Russia's recovered from its weakened economic position in the 1990s, as its military campaign in Syria showed, though "our partners are used to having a global monopoly" on power, Putin said.