ECB Underlines Readiness to Act Amid Europe's Fragility
by , , and
Draghi says central bank won't surrender to too low inflation

Policy makers distance themselves from `helicopter money' talk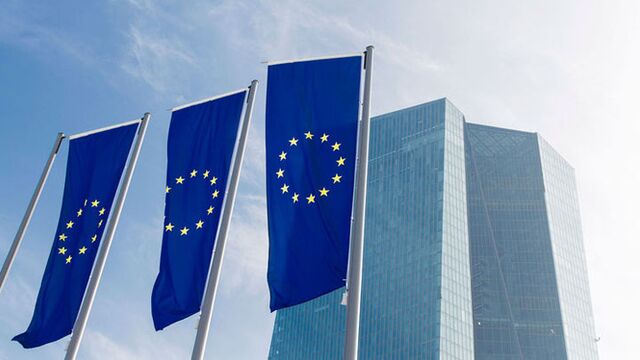 European Central Bank officials underlined their readiness to further ease monetary policy as political, banking and sovereign fault lines showed the region remains vulnerable six years after the start of the debt crisis.
QuickTake Europe's QE Quandary
In Frankfurt, the ECB's home city, and Brussels, Europe's nominal capital, policy makers said they'll take whatever measures are required to help the economy and boost inflation. Speaking in Lisbon on Thursday, President Mario Draghi said he still has plenty of tools at his disposal -- though elsewhere his colleagues stressed that doesn't include the financing of fiscal stimulus, known as "helicopter money."
"We face uncertainty about the outlook for the global economy," Draghi wrote in the central bank's annual report, presented in Brussels Thursday. "We face continued disinflationary forces. And we face questions about the direction of Europe and its resilience to new shocks. In that environment, our commitment to our mandate will continue to be an anchor of confidence for the people of Europe."
As economic reports paint a picture of a lackluster recovery, the region is up against an array of confidence-sapping threats to its political and financial stability, from the worsening migrant crisis to persistent doubts about Italian banks. With renewed political turmoil in Greece, and Spain still without a government after an election in December, all these factors are combining to unnerve investors and drag peripheral bonds lower.
Since the ECB cut rates last month to record lows and expanded its bond-buying program, Governing Council members have repeatedly emphasized that the central bank hasn't run out of room to ease again. 
"If further adverse shocks were to materialize, our measures could be recalibrated once more, commensurate with the strength of the headwind, also taking into account possible side-effects," ECB Chief Economist Peter Praet said in Frankfurt. Constancio said in Brussels that the central bank will do "whatever is needed."
The Stoxx Europe 600 Index rose 0.7 percent to 330.22 on Friday at 10:11 a.m in Frankfurt, trimming a fourth weekly loss, its longest streak since October 2014. The euro traded unchanged at $1.1378.
Spanish Bonds
The yield on Spanish 10-year bonds fell three basis points to 1.58 percent. The securities fell for six days through Thursday, the longest run since a nine-day losing streak through July 24, 2012. That was two days before European Central Mario Draghi's pledge to do "whatever it takes" to preserve the euro. Spanish politicians have yet to form a government since an inconclusive election, and the acting administration missed its 2015 budget-deficit goal. The losses in peripheral debt are coming even after the ECB expanded its monthly bond-buying program, which tends to support such securities.
Elsewhere, Dutch voters on Wednesday rejected a EU trade agreement with Ukraine at a referendum. With the U.K. preparing for a vote on membership of the bloc in June, the result was hailed by British campaigners for an exit.
"Growth in Europe has slowed a bit due to effects from the market turmoil in the beginning of the year, and also the uncertainty over Brexit," said Allan von Mehren, chief analyst at Danske Bank A/S in Copenhagen. "The latter is of course especially U.K., but it creates uncertainty for all of Europe."
Helicopter Tussle
In Frankfurt, ECB policy makers stopped short of saying what additional tools they would consider. Academics and officials at the "ECB and its Watchers" conference tussled on the topic of helicopter money, without consensus on the definition of the term emerging. Charles Bean, a former Bank of England deputy governor, said it's just a mix of two existing policies, namely central bank stimulus coupled with looser fiscal policies.
"It seems to me that the whole discussion about helicopter money is mistakenly thinking that there are some additional policy instruments out there, some magic tool that we can use which has not yet been tried," Bean said.
The concept, first popularized by theorist Milton Friedman more than 40 years ago, has come to the fore as central banks seek more and more extreme options to ward off deflation. It aims to transmit cash as directly as possible to the economy, bypassing usual intermediaries such as banks.
Policy Debate
Though such a measure may be off the table for now, an account of the last ECB policy meeting on March 10 gave weight to the officials' statements of readiness to act further. Policy makers had considered a sharper rate cut than the 10-basis-point reduction to the deposit rate that was delivered, as well as an exemption plan for banks' deposits, leaving room for those steps to be taken if needed in the future.
Inflation in the euro area has been below the ECB's target of just under 2 percent for the past three years. Even with more than 1.7 trillion euros ($1.9 trillion) in quantitative easing already in the pipeline, the central bank doesn't forecast a return to that goal before the end of 2018.
While the ECB has defended its activism, policy makers are also increasingly bemoaning the lack of political efforts to drive growth. Benoit Coeure, the board member responsible for European affairs, said its policy would be more effective if others acted too.
Bank of Italy Governor Ignazio Visco linked the simmering discussion over more extreme monetary stimulus to the institutional deficit in the euro area.
"The idea is that monetary policy cannot be left in isolation, this is very important, we need to engage and continue a discussion," Visco said. "In this very imperfect union to which we belong, I feel that at the end, keeping for a long period the currency without the state will be impossible."
Before it's here, it's on the Bloomberg Terminal.
LEARN MORE