Pound Falls as Dutch Referendum Spurs Parallels to `Brexit'
By
Sterling reaches lowest since June 2014 against the euro

Traders pay premium for put options versus every G-10 currency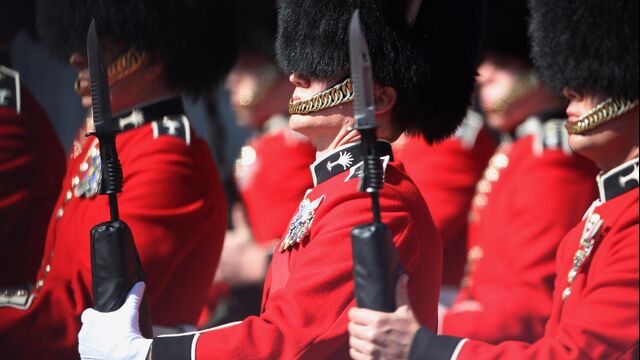 The pound fell for a third day versus the dollar after analysts said Dutch voters rejecting a European Union trade agreement with Ukraine could embolden Britons campaigning to leave the single market. 
Sterling approached its lowest in more than a month against the dollar amid concern that if the U.K. votes to leave the EU on June 23 the economy will be damaged. With polls showing the referendum will be close, traders have braced for more volatility. The U.K. currency fell to the weakest level since June 2014 against the euro.

"The markets are somewhat oversensitive to any news which may affect the results, given the huge amount of uncertainty" in the U.K.'s referendum, said Mikael Olai Milhøj, an analyst at Danske Bank A/S in Copenhagen. "The Dutch 'no' will be welcomed by the U.K. 'leave' campaign although the question remains how big an impact it will have."
The pound dropped 0.2 percent to $1.4090 as of 4:14 p.m. London time, approaching the $1.4006 level touched on Wednesday, the lowest since March 2. Sterling weakened 0.1 percent to 80.83 pence per euro, having touched as high as 81.17 pence earlier.
Pricing in the options market suggests more declines to come. The pound will be prone to more volatility into the referendum, according to John Goldie, a London-based senior dealer at Argentex LLP.
"The bigger picture is that sterling is on the back foot and we will get moves like this," Goldie said.
Risk Reversals
There's a premium for three-month options protecting against sterling losses over contracts betting on a gain in the case of every Group-of-10 currency.
Dutch voters rejected a treaty between the EU and Ukraine by a margin of nearly two-to-one, exposing anti-EU sentiment in one of the bloc's founding members. It comes as the region faces a refugee crisis, security challenges and economic stagnation, which has triggered a surge in support for populist parties.
While the vote is not binding and unlikely to derail the agreement with Ukraine, it "showed that the Dutch people are very critical of the European Union, despite the low turnout," Philippe Gudin, chief European economist at Barclays Plc, wrote in a note. "It also shows that if the U.K. votes to leave the EU in the 23 June referendum, the Netherlands could be a potential follower, which could undermine the integrity of the EU and of the euro area in the future."
Still, the weak currency hasn't crimped investor demand for U.K. government bonds. The Debt Management Office sold 2.5 billion pounds of gilts due in July 2026 at an average yield of 1.514 percent, the lowest on record for a 10-year debt auction. Investors bid for 1.96 times the amount of securities allotted, the highest bid-to-cover ratio since June 2014.