Nordea CEO Says He's `Mad, Disappointed' Amid Panama Tax Leaks
by
Casper von Koskull, the chief executive officer of Nordea Bank AB, said he's "mad" and "disappointed" by the lender's role in a series of leaks alleging it helped clients hide their wealth through offshore accounts.
Nordea, Scandinavia's largest bank with a market value that's about $15 billion bigger than Deutsche Bank AG's, is responding to the allegations with a promise to shun what von Koskull is characterizing as "gray zones" in offshore accounting structures.
The pledge follows revelations in leaked documents relating to Panama-based law firm Mossack Fonseca that Nordea allegedly helped clients hide wealth by shifting their holdings into accounts in low-tax countries. Nordea says it has no evidence it has done anything illegal, but the ensuing deluge of criticism from media and shareholders has forced the bank to respond to allegations of unethical conduct.
Tax Evasion
"We don't accept being used as a platform for tax evasion," von Koskull told reporters in Stockholm on Thursday. If the bank can be "associated with anyone operating in the gray zone, we don't want to be there."
Shares in Nordea traded as much as 4.2 percent lower on Thursday, and were 3 percent down as of 1:32 p.m. in Stockholm. That compares with a 1.9 percent decline in the 39-member Bloomberg index of European financial stocks.
Nordea was summoned by the Swedish financial regulator earlier this week to explain its appearance in the leaked files. The bank says it has severed all ties with the Panamanian firm and that it enforced strict rules in 2009 to prevent the use of shell companies. But offshore structures can still be used in certain circumstances as "a legal and administrative vehicle for some customers with very complex, international business," according to the bank.
Money Laundering
Erik Thedeen, head of the FSA, said on Wednesday he spoke with von Koskull and is investigating the "serious" media claims. The regulatory scrutiny follows Nordea's breach last year of money laundering rules, triggering a warning and a 50 million-krona ($6 million) fine, which is the maximum administrative amount that can be charged. Back then, the FSA said it found "major deficiencies" in Nordea's work to prevent money laundering.
The latest allegations represent "a challenge for our whole industry," von Koskull said. Since becoming CEO in November, he says compliance has become the top priority. "My clear ambition is that we want to be best in class on this."
The bank is conducting an internal review that will cover its Luxembourg unit as well as its operations in Sweden, Denmark, Norway and Finland.
"I am disappointed and before I can be ashamed I need to know what actually is there," von Koskull said in response to questions from reporters. "Sometimes we lose track of what are real facts and what are snippets of fact, but we cannot judge from snippets. I am disappointed and I am mad."
Watch Next: Panama Papers Bring Scrutiny to British Virgin Islands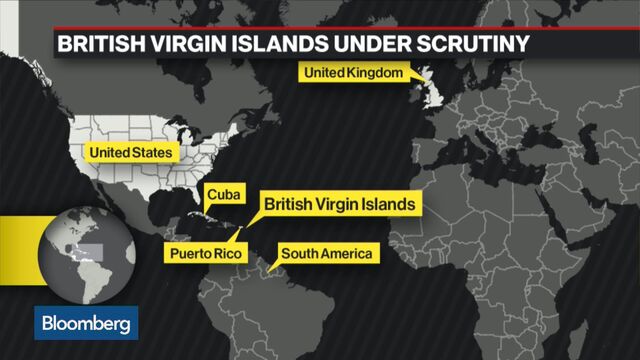 Before it's here, it's on the Bloomberg Terminal.
LEARN MORE