Jamie Dimon Warns Treasury Rally May Turn to Rout as Rates Rise
by
Biggest buyers of U.S. debt won't be there in future: Dimon

Warning jibes with Bloomberg survey projecting yield to rise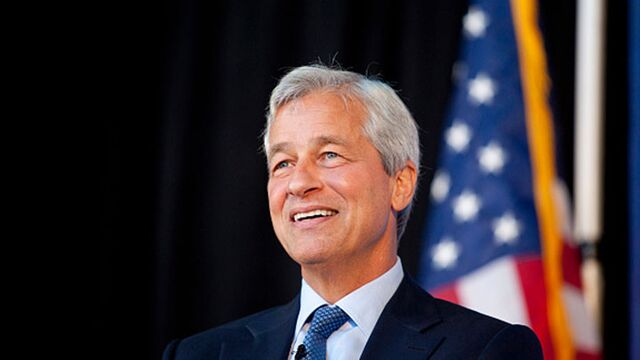 Jamie Dimon, chief executive officer of JPMorgan Chase & Co., said he's concerned demand for Treasuries will decline and the Federal Reserve will raise interest rates faster than people expect.
The market won't be able to rely on the biggest buyers of U.S. debt: the Fed, foreign nations and commercial banks, Dimon wrote in his annual letter to shareholders Wednesday. Increasing consumer and business confidence could boost demand for credit and reduce investor appetite for the haven of Treasuries, he said.
"These three buyers of U.S. Treasuries will not be there in the future," Dimon wrote. "If this scenario were to happen with interest rates on 10-year Treasuries on the rise, the result is unlikely to be as smooth as we all might hope for." JPMorgan is one of the 22 primary dealers that underwrite the U.S. debt and trade with the Fed.
The benchmark Treasury 10-year note yield fell six basis points, or 0.06 percentage point, to 1.70 percent as of 12:56 p.m. New York time, according to Bloomberg Bond Trader data. The 1.625 percent security due in February 2026 rose 17/32, or $5.31 per $1,000 face amount, to 99 11/32. Two-year note yields dropped three basis points to 0.70 percent.
Bear Case
Dimon's bear case matches the consensus among economists surveyed by Bloomberg, who see yields rising through the course of 2016. The 10-year yield will climb to 1.92 percent by June 30 and 2.25 percent by Dec. 31, based on a Bloomberg survey of economists with the most recent forecasts given the heaviest weighting.
The Federal Open Market Committee reached a broad agreement to go slowly in raising U.S. interest rates due to increasing global risks, even as some policy makers indicated that an increase in the Fed funds rate target range at the April 26-27 meeting "might well be warranted" if economic data came in as expected, according to minutes of Fed's March meeting published on Wednesday.
The minutes highlighted "that the positive momentum within the U.S. economy is being held back by developments abroad," said Matthew Cairns, a strategist at Rabobank International in London. "Once the FOMC is satisfied these risks have abated, they will hike, sending Treasury yields back toward what we once considered 'normal' levels."
Yield Forecast
Treasury two-year note yields, which are among the most sensitive to Fed policy, will climb to 1.40 percent in the next 12 months, according to Rabobank forecasts. That level hasn't been seen since June 2009.
Treasuries returned 3.2 percent in the first three months of 2016, the biggest quarterly gain in almost four years, based on Bloomberg World Bond Indexes. The market rallied as a decline in stocks and oil sent investors to the safest securities.
Japan's investors pared their holdings of foreign bonds at the fastest pace in almost 10 months as they adjusted positions before the start of the fiscal year. They sold a net 1.6 trillion yen ($14.8 billion) in overseas debt during the week ended April 1, the most since June, according to Ministry of Finance data released Thursday.
Before it's here, it's on the Bloomberg Terminal.
LEARN MORE