Photographer: Sanjit Das/Bloomberg
Manila used to be the city the Asian economic boom forgot—overlooked in favor of more dynamic spots in China and Thailand. But with the Philippine capital now a favored destination for call centers and other outsourced services, it isn't such an outlier. As multinationals such as JPMorgan Chase and American Express expand there, more than 1.4 million square meters of office space will be added over the next two years, says Julius Guevara, an analyst at Colliers International.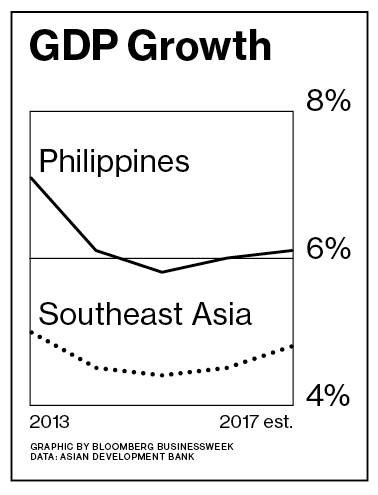 The economy is on pace to grow around 6 percent in 2016 and 2017, the Asian Development Bank says, compared with less than 5 percent for Southeast Asia as a whole. While a slump in China has hurt other Asian countries, "the Philippines is ticking to a very different rhythm," says Joseph Incalcaterra, an economist with HSBC.
That rhythm faces some disruption as the May election to replace term-limited President Benigno Aquino III approaches. More than 2 million Filipinos work in the Middle East, and the economy depends on money they send back. A slowdown in countries hurt by low oil prices has pinched remittances. Payments from the 10 million Filipinos who work abroad rose just 4.6 percent last year, the slowest since 2001.
A high-profile cybercrime case may also lead to tighter scrutiny applied to money transfers to the Philippines. In February hackers stole $81 million from the Bangladesh central bank by routing it from the U.S. Federal Reserve to a bank in the Philippines. The thieves then gambled $30 million of the stolen cash at a Manila casino that's exempt from anti-money-laundering laws because of a loophole created to encourage investment in the tourism industry. The rest of the money went to other gambling operators, Julia Abad, executive director of the Philippine Anti-Money Laundering Council, said at a Senate hearing on April 5.
The televised investigation hearings have created a "global spectacle," Philippine Veterans Bank Chairman Roberto de Ocampo said in a statement. "If we continue on this path, the gains we have had in the past will be at risk." Some foreign lenders have closed the accounts of remittance companies after implementing rules to fight money laundering and terrorism financing, central bank Governor Amando Tetangco said on March 29.
Even as the economy has outperformed most of Southeast Asia, the Philippines has lagged in attracting foreign direct investment. That's led to chronic infrastructure problems. Despite $4.2 billion in government contracts awarded since 2010 for roads, ports, and mass transit, it's still difficult to travel across the country's archipelago of 7,000 islands. "Everything is running at overcapacity right now," says Antton Nordberg, an analyst at KMC MAG Group, a Manila-based real estate services company.
There hasn't yet been a spike of layoffs in the Middle East, but some employers there may be freezing salaries, Labor and Employment Secretary Rosalinda Baldoz said in February. Last month her department teamed up with Coca-Cola Far East to help women who return home after working overseas. The program offers entrepreneurship training and other support so returnees can start businesses.
For those who do return, getting a job in a factory probably isn't an option. Unlike other Asian countries that rely on exports, in the Philippines factories don't generate much growth. Manufacturing makes up just 20 percent of gross domestic product, compared with almost 60 percent for services. The Philippines "bypassed the whole manufacturing thing," says HSBC's Incalcaterra.
For now, the growth of the outsourcing industry can compensate for that weakness, but call centers and other outsourcing businesses are looking to cut head count by using more automation. That could present a challenge to Aquino's successor. Still, Gareth Leather, a senior Asia economist with Capital Economics, writes in an April 5 report, "Whoever replaces Aquino will take over a country that is in better shape than it has been in for a long time."
—With Norman P. Aquino and Ditas B. Lopez
The bottom line: The oil bust, plus a hacked banking system, threaten remittance payments from 10 million Filipinos working overseas.
Before it's here, it's on the Bloomberg Terminal.
LEARN MORE