Irish Biggest Parties to Resume Talks as Kenny Offers Deal
Dara Doyle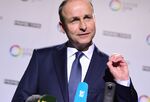 Ireland's biggest political parties will resume talks on Thursday, after acting premier Enda Kenny offered a "full partnership" to his principal rival in a bid to form a government.
Fine Gael leader Kenny met Fianna Fail's Micheal Martin after he was defeated in a vote for prime minister in parliament in Dublin on Wednesday.
Kenny "made a formal offer for the formation of a full partnership gvernment including Fine Gael, Independents and Fianna Fail which would have the potential to provide a stable and lasting government," his party said in a statement late Wednesday.
While there's little between the two center parties ideologically, with each side tracing their roots back to the nation's bitter Civil War, they had been reluctant to begin talks until exhausting all other alternatives. Fianna Fail is resisting entering coalition, Irish media reported on Thursday.
Before it's here, it's on the Bloomberg Terminal.
LEARN MORE