Getting Money Out of China, One Swipe at a Time
Mainlanders come to Hong Kong to buy insurance.
By and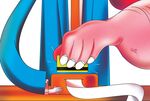 Hong Kong insurance agent Raymond Ng sold HK$28 million ($3.6 million) in insurance policies to a mainland Chinese client in March. It took more than 800 credit card swipes to complete the transaction.
Ng is one of dozens of Hong Kong agents—and maybe more—using this and similar tactics to get around new limits on mainlanders using credit cards to buy insurance, according to interviews with five agents working for four different insurance companies. Making multiple swipes can defeat a cap of about $5,000 per transaction set by Chinese authorities in February. The country is trying to slow the steady stream of cash going abroad and into foreign currency assets.
"There are always ways around new restrictions," says Ng, who spoke on the condition his company's name not be used. "Chinese customers are accelerating the pace of moving assets outside China, especially through insurance products."
These clients are reacting to a slowing economy and fears that the yuan, which was devalued in 2015, could decline further. Holding any kind of asset denominated in foreign currencies could protect the purchasing power of their savings.
Chinese citizens are allowed to convert the equivalent of only $50,000 of yuan per year to other currencies. When they travel abroad, including to Hong Kong, many of their transactions using China's UnionPay credit and debit cards aren't subject to the limit. Hotel bills and luxury goods aren't included. Neither are insurance policies for travel and health, though they're subject to the per-transaction cap.
But mainland Chinese are coming to Hong Kong to also buy life insurance policies with an investment component that can be cashed out in a few years. The money can then be invested in property or other assets, raising fewer questions about how it got out of the mainland. Large portions of the premium can be paid upfront. Sales of insurance and related investment policies to mainland visitors jumped 30 percent last year, according to Hong Kong's insurance commission.
China views any purchases of the investment-linked policies as a violation of the controls on capital outflow, said Wang Yungui, an official of the State Administration of Foreign Exchange, or SAFE, at a news conference in Beijing on March 22.
In practice, though, it can be difficult for regulators and credit card companies to distinguish between travel- and health-insurance policies and life policies with investment components, agents say. Swiping a credit card dozens or even hundreds of times isn't illegal in Hong Kong, a territory with a high degree of autonomy from the mainland. When it imposed the $5,000 limit, mainland regulator SAFE said it would "closely monitor" cardholders and insurers for multiple swiping, but it stopped short of banning the practice. A press officer for UnionPay says it complies with regulatory requirements by monitoring transactions and analyzing data.
A spokesman for Hong Kong's insurance regulator declined to comment. SAFE and the People's Bank of China, the nation's monetary authority, didn't respond to requests for comment.
The British insurer Prudential, which had previously prohibited its Hong Kong agents from swiping credit cards more than 10 times for each client, removed that ceiling as of March 21, according to two agents briefed on the change. A spokesman for Prudential declined to comment.
Hong Kong-issued policies of all sorts are also popular in China because they offer better beneficiary payments and returns than mainland plans. Hong Kong health-insurance policies provide access to better care. Insurance is shielded from seizure in the event of a bankruptcy in China or in criminal proceedings, which have been intensifying under President Xi Jinping's anticorruption campaign.
The $5,000 cap was followed by a ban on electronic transfers, such as online payments, to buy life insurance, according to notices seen by Bloomberg News. Agents who sell large policies "are likely doing their best now to urge clients to buy their products before more stringent measures are put in place," says Steven Lam, a Hong Kong-based insurance analyst with Bloomberg Intelligence. Apart from swiping their card multiple times, insurance buyers can also ask relatives or beneficiaries to group together to pay a large premium, agents say.
There's even insurance tourism. A Chinese company that brokers insurance policies, Henan-based Hong Kong Easiness Wealth Management, offers travel to Hong Kong, including free airfare and accommodation. Customers buying policies valued at more than 500,000 yuan ($77,000) get a first-class ticket plus two nights in a five-star hotel. Such a purchase would require at least 15 card swipes. A trip was scheduled for May, says Li Yida, the company's owner.
"We will guide them through the whole process and swipe cards with them," he says. "We've told them to bring more than one credit card, as they will be able to try more cards if one of them is not working."
The bottom line: Insurance policies in foreign currency can help get around capital controls, even with a $5,000 limit for each credit card swipe.
Before it's here, it's on the Bloomberg Terminal.
LEARN MORE