Depomed Rises After Starboard Value Seeks Control of Board
by
Activist discloses 9.8% stake in drug-delivery company

Starboard critical of company's takeover defense efforts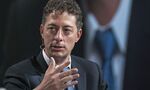 Depomed Inc. shares rose Friday after activist Starboard Value LP said it's seeking to replace six directors at the developer of oral drug-delivery technologies, part of its fight to halt expansion of the company's "egregious" takeover defenses.
Starboard, which owns 9.8 percent of Depomed in stock and options, is nominating five members of its own investment team plus an independent director as placeholder dissidents, it wrote in a letter dated April 8 to Depomed Chief Executive Officer Jim Schoeneck. Some of the nominees are pending the recruitment of more qualified candidates as Starboard seeks a special shareholder meeting to vote on its slate, according to the letter.
Depomed shares gained 12 percent to $16.85 at 1:37 p.m. in New York, after earlier rising as much as 21 percent.
"Depomed welcomes open communications with its shareholders and values constructive input toward the goal of enhancing shareholder value," Depomed said in a statement Friday. "Starboard has not communicated with the Company prior to filing the 13D and has not attempted to hold any discussions with the Company." Starboard filed a 13D form with the U.S. Securities and Exchange Commission about its stake in Depomed on Thursday.
Activist Demands
The activist wants to thwart Depomed moves that Starboard says make it even harder for shareholders to push for changes, the firm stated in the filing. The actions opposed by Starboard, which it says were buried in Depomed's effort to reincorporate in Delaware, include changing the proportion of shareholder support needed to call a special meeting to 25 percent from the current 10 percent, as well as limiting the window for calling such a meeting and eliminating investors' ability to call for special meetings to replace the board.
Depomed last year fought a takeover effort by Horizon Pharma Plc, adopting a poison pill, making it harder to call a special shareholder meeting and filing lawsuits. In November, Horizon withdrew its offer to acquire Depomed after losing a legal challenge to invalidate those takeover defenses.
Shares of Depomed closed Thursday at $15, less than half the amount it was offered at the peak of Horizon's stock bid.
Hostile Bid
"Depomed welcomes open communications with its shareholders and values constructive input toward the goal of enhancing shareholder value," the company said in an e-mailed statement, noting Starboard hadn't communicated with Depomed and the company hadn't yet seen the letter. "Depomed's board and management are committed to creating value for all Depomed shareholders."
Horizon made a hostile bid for Depomed in July after the Newark, California, drugmaker's board rebuffed previous approaches. The Dublin-based biopharmaceutical company sought the combination to expand its portfolio of treatments for pain and central nervous system conditions.
"We are not currently advocating for any one particular transaction, or any transaction at all, but we firmly believe that board change is necessary to best represent the interests of all shareholders as it relates to the ongoing business and any potential transaction opportunities in the future," Starboard CEO Jeff Smith wrote. "Given your actions, and history of actions, we cannot take the risk that you further impair our shareholder rights."
Before it's here, it's on the Bloomberg Terminal.
LEARN MORE