The Russian Ex-Con With a Thriving Banking Business in Crimea
by and
Indicted in U.S. stock fraud, Dvoskin builds bank in Russia

Central bank said to have tried to block expansion but failed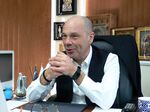 Yevgeny Dvoskin says he's "no angel."
As he tells it, he knows the tricks of the money launderer's trade. He was deported from the U.S. after tax-fraud convictions. He has served as an aide to the man suspected by U.K. authorities of poisoning former spy Alexander Litvinenko in London. Protection from the KGB's successor helped him fend off extortion allegations in Moscow.
But none of that, he says, has anything to do with his breakthrough as a banker in Russia's newest territory.
Since his Genbank opened its first branch down the street from the main government offices in Crimea just two weeks after Russia's 2014 takeover of the Ukrainian peninsula, the bank has expanded to 175 branches to become No. 2 in the region. Early this year, regulators approved a 1.4-billion-ruble ($20 million) capital boost to help it keep up with the growth. Another reflection of its prominence: the U.S. in December added Genbank to its list of Russian entities sanctioned for operating in the annexed territory.
"There are opportunities in Crimea that just aren't available on the mainland," Dvoskin said in a recent interview in his Simferopol office, decorated with Russian Orthodox icons and a photo of President Vladimir Putin hanging above a lit candle.
It was "pure coincidence" that brought him to Crimea shortly before the Russian takeover. Enthusiasm about the "historic events" has kept him there to lead Genbank's expansion, he said.
'High-Level Protectors'
Regulators and others who have dealt with him point to another explanation, one that reaches into the murky depths of Russia's financial system.
His critics charge that he's a key figure in "obnalichka," the multibillion-dollar business of off-the-books cash that greases the country's underground economy. They say he has enjoyed a symbiotic relationship with security services tasked with cracking down on the trade. At times, they protected him from other agencies that sought to prosecute him. Crimea is the next chapter in his story.
Dvoskin "was involved in organizing serious schemes for obnalichka," said Kirill Kabanov, a former Federal Security Service (FSB) officer who now heads an anti-corruption watchdog group and is a member of the presidential human-rights council. He added that the illicit cash "isn't necessarily mafia money, as many think. In Russia, it's mainly used by bureaucrats and state corporations" for clandestine payments. "That's why Dvoskin has many high-level protectors."
Dvoskin said he's never been convicted of any crime in Russia. He called allegations he's involved in obnalichka untrue.
But when Russia's central bank tried to stop Genbank from expanding in Crimea in 2014, concerned about Dvoskin's past and the small Moscow bank's financial stability, its efforts were blocked by his powerful political connections, according to two people familiar with the situation. The central bank for years has pushed to squeeze bankers with criminal pasts out of the system, shutting down dozens of weak lenders suspected of illicit dealings. But Dvoskin proved too influential, according to these people. The central bank's press service declined to comment.
Dvoskin said his bank cleared a thorough vetting by regulators before expanding in Crimea. He said he did enjoy the official protection of the FSB, the main successor to the KGB, several years ago when he was involved in a police investigation of alleged financial fraud and extortion. Ultimately, one of the officers who probed Dvoskin was convicted of attempted fraud in the case. Dvoskin also avoided extradition to the U.S. after he was arrested in Monaco in 2008, making his way back to Russia. He said a Monaco court rejected the request.
"Just because I was under the protection of the FSB, does that mean I launder money for them?" Dvoskin said.
The FSB didn't respond to a request for comment.
'Valuable' Source
"He's one of the most valuable sources of information about corruption in the banking sector," said Alexander Sharkevich, a former special undercover agent for the Interior Ministry who said he was assigned to infiltrate Dvoskin's network in 2006. Once he got close to his target a year later, Sharkevich himself was arrested and charged with fraud. He was later acquitted of that charge but found guilty of a weapons violation.
Crimea's isolation -- it's been subject to strict U.S. and E.U. sanctions since the takeover -- has helped give it a special status in Russia. The Kremlin's focus on ensuring its economic success means authorities want to make sure local banks don't fail. The government approved plans to spend 681 billion rubles over five years to develop the peninsula, where wages are about two-thirds the level of the rest of the country.
"The level of corruption in Crimea is very high," said Pavel Medvedev, the government's Financial Ombudsman. "Because of Western sanctions, big banks wouldn't go there, but risky financial institutions would."
Dvoskin agreed that Crimea had attracted "some not-very-scrupulous small Russian banks who hoped that a bank working here would become untouchable for a while." But he credits regulators with preventing such outfits from opening.
There was little in his background to point to a career in finance.
Dvoskin moved to the U.S. with his family from Odessa in 1977 under the name Eugene Slusker, part of the wave of Jewish emigrants at the time. He said his family struggled in the Bronx and later the émigré neighborhood of Brighton Beach in Brooklyn.
U.S. court records show he was convicted and imprisoned twice in the 1990s for tax fraud and evasion, crimes related to excise taxes on diesel fuel. Such scams were typically the province of organized-crime groups, according to prosecutors and lawyers involved in the cases. Dvoskin dismissed the idea of a Russian mafia as a "myth" invented by U.S. law enforcement.
U.S. Indictment
He does confirm he knew Vyacheslav Ivankov, whom the Federal Bureau of Investigation described in 1998 as "one of the most notorious Russian organized-crime figures operating at the time." After being convicted of extortion and sentenced to nine years in U.S. prison, Ivankov returned to Russia. He was gunned down in central Moscow in 2009.
"He was the kind of person you could talk to about any topic -- art, poetry," said Dvoskin.
In 2003, when he was already back in Russia, Dvoskin was named in an indictment in the Eastern District of New York in a stock-fraud case that dated to the late 1990s. (He was listed as Slusker because U.S. authorities weren't aware he'd changed his name when he returned to Russia.) Most of the other defendants were convicted and sentenced to prison. Dvoskin remains wanted by U.S. authorities in the case.
Prosecutors allege he owned a stake in the brokerage in the case but Dvoskin said he had only an account and wasn't involved in any fraud.
"I'm no angel, of course," he said. "I understand how to launder money and you can't do it with your bank account."
Back in Russia and having converted to Orthodox Christianity, he said he sold gambling equipment and provided financial advice to wealthy friends. "We sent people to banks that could be trusted," he said.
Dvoskin counts among his friends Andrey Lugovoi, who U.K. authorities suspect of using radioactive polonium to murder Litvinenko in London in 2006. Lugovoi, who has denied the allegations and is now a member of the Russian parliament, said through an aide that he doesn't comment on his friends.
'He's The Boss'
Genbank was struggling when Dvoskin invested in 2013, he said. He owns 7.2 percent of the bank and holds the position of vice president. Other shareholders include a Lugovoi relative. Dvoskin's wife, a former gymnast, is chairwoman. But a visit to its headquarters suggests Dvoskin's authority outweighs his title. When asked if she's in charge, CEO Elena Ponomareva quickly answered, "No, no, no. He's the boss."
Dvoskin said he didn't plan his move to the region. "We were in Crimea and the military just happened to be nearby," he said. The officers "asked us to stay and help set up the financial system."
Russia's Defense Ministry didn't respond to a request for comment.
Dvoskin said Genbank helped win support from local authorities by granting the governments of Crimea and the city of Sevastopol 25 percent stakes in the bank free of charge. The bank last year won the right to distribute state pensions in Crimea and enjoys government-backed insurance on its 16 billion rubles of retail deposits, as well.
The political ties could continue come in handy.
Russia's main credit-rating agency last fall downgraded Genbank, citing "high regulatory risks." The agency noted that the bulk of its lending went to companies with no real business and that its cash operations raised questions about whether it is fully in compliance with rules against money laundering. Dvoskin called the assessment "biased." Genbank stopped doing business with the agency.
"We're seeing intense growth," Dvoskin said. "The trend is almost unbelievable -- every day clients, individuals and companies, come and open accounts."
(An earlier version of this story was corrected to reflect that Dvoskin said he had an account at the brokerage cited in the 2003 U.S. indictment.)
Before it's here, it's on the Bloomberg Terminal.
LEARN MORE