China May Adjust Gas Prices Amid Market-Based Shift, ICIS Says
Bloomberg News
NRDC considers single pricing plan for all consumers: ICIS

Plan may end residential discounts in boost to gas suppliers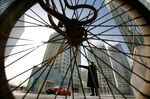 China may harmonize wholesale natural gas prices for residential and industrial users as early as this year in an effort to make pricing of the fuel more market based.
The National Development and Reform Commission is discussing a plan to set a single wholesale gas price for all users in 2016 and let suppliers and customers negotiate rates around the benchmark, ICIS China, a Shanghai-based commodity researcher, said in an e-mailed report citing people familiar with the plans. Industrial and commercial users in most regions pay a premium of as much as 1.73 yuan a cubic meter for gas compared to residential consumers, it said.
China is reforming its state-controlled energy industry to make prices more reflective of supply and demand. The world's largest energy consumer is targeting raising the share of natural gas in its energy mix to 10 percent by the end of the decade from about 6 percent last year in an attempt to shift consumption from coal and reduce pollution.
"The move will benefit upstream players such as PetroChina and Sinopec as they won't have to provide a wholesale discount to residential users under the new policy," said Shi Yan, a Shanghai-based analyst at UOB-Kay Hian Ltd., indicating that residential users may pay more.
NDRC didn't immediately respond to a faxed request for comment.
China cut natural gas prices for commercial and industrial users in November by 26 percent for Beijing and 24 percent for both Shanghai and Guangdong as the nation's gas demand expanded by the least in in a decade in 2015 amid a price slump in alternative fuels such as coal.
The cost for distributors to supply residential users is higher than industrial consumers. China Gas Holdings Ltd. Chairman Liu Ming Hui said in a December interview that 80 percent of the company's manpower was catering to residential users who generated around 20 percent of revenue.
— With assistance by Guo Aibing, and Jing Yang
Before it's here, it's on the Bloomberg Terminal.
LEARN MORE