Big Junk Bond Sales Are Making a Comeback
by and
Busiest week for U.S. high-yield bond sales since November

Numericable gets $5.19 billion in biggest junk bond of year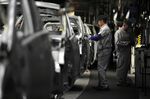 Junk bond sales, which had all but dried up at the start of the year, are showing signs of life.
More than $10 billion of high-yield debt is on track to be sold this week in the U.S., which would make for the busiest five consecutive days since November, according to data compiled by Bloomberg. In Europe with yields on a growing number of companies' bonds falling below zero and the price of oil showing signs of recovering, fund managers are increasingly willing to buy speculative-grade securities.
Numericable-SFR SA, the French phone business, on Wednesday sold $5.19 billion of securities, the biggest single junk bond worldwide this year. Charter Communications Inc., the cable operator that has sold $22 billion in more than five different offerings over the last year, raised $1.2 billion the next day. Peugeot SA is marketing 500 million euros ($570 million) of junk bonds.
"Everything has changed," said Raphael Chemla of Edmond de Rothschild Asset Management, which has 55 billion euros under management. The European Central Bank said last month that it will start buying investment-grade corporate notes sometime toward the middle of the year, which has helped pull down yields on junk debt in the region to a more than four-month low.

"It is helping the high-yield sector because everybody is looking for yield, it is kind of a waterfall effect on credit starting with investment grade toward high-yield corporate bonds," Chemla said.
Junk bonds in the U.S. are also benefiting from $1.2 billion of inflows into high-yield funds this week following outflows of $544.6 million last week, according to data provider Lipper.
Carmaker Peugeot is offering seven-year bonds yielding 2.375 percent, according to a person familiar with the matter, who asked not to be identified because they aren't authorized to reveal the information.
Not every issuer has had an easy time raising money in the junk bond market. Western Digital Corp. was forced last month to reduce its two-part high-yield sale backing its takeover of SanDisk Corp. to $5.23 billion after investors balked at its original $5.6 billion size. The company also had to boost yields on the deal to attract buyers. The biggest part of that deal was a $3.35 billion note.
While more than $64 billion of junk bonds have been sold in the U.S. and Europe this year, issuance is a far cry away from the $127.3 billion issued in both regions at this point in 2015, Bloomberg data show.
Junk bonds continue to face various headwinds such as the possibility of a U.K. exit from Europe and volatility in oil prices, said Ben Emons, a money manager at Leader Capital Corp. in Los Angeles.

Moody's Investors Service projects that the default rate on U.S. speculative-grade debt will climb to 5.34 percent by the end of February 2017, up from 3.63 percent this year. The rate could reach as high as 17.3 percent in a more pessimistic forecast. And Barclays Plc slashed its 2016 projection for junk bond sales to at least $190 billion on April 1, down from a November estimate of as much as $290 billion.
'Opportunistic' Supply
But that doesn't mean there isn't an opening for performing companies to step in, said Keith Bachman, head of the U.S. high-yield business at Aberdeen Asset Management Inc.
There's "supply that's more opportunistic," Bachman said.
Numericable, the French telecom company, boosted a 10-year secured bond deal twice, more than doubling it to $5.19 billion from an initial target of $2.25 billion. The company also managed to tighten the yield on the securities to 7.375 percent from an initial offer of 7.5 percent. Proceeds will be used to repay a revolving credit facility and redeem a portion of dollar bonds maturing in May 2019.
Charter Communications raised $1.2 billion of notes to refinance debt, the cable-operator's second foray in the bond market in two months, Bloomberg data show. The company boosted the deal from an initial target of $1 billion.
"The market is at risk-on mood at the moment," said Aengus McMahon, the London-based head of European high-yield research at ING Bank NV. "Whether we are going back to really strong days, it is too early to say, but certainly at the moment the market looks more positive for high-yield bond issuance."
Before it's here, it's on the Bloomberg Terminal.
LEARN MORE