Yuan's Dual-Moves Policy Spurs Warning of Emerging-Market Risks
Bloomberg News
Decline against basket may raise competitiveness issue: ANZ

Drop raises question on China stability policy: Credit Suisse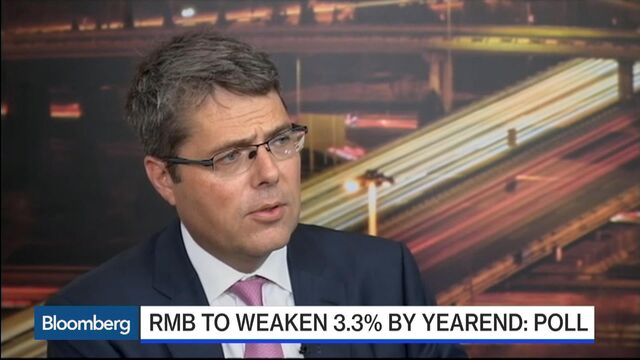 The Chinese central bank's appetite for trade-weighted weakness in the yuan appears to be increasing, according to Australia & New Zealand Banking Group Ltd., spurring warnings of increasing risks to emerging-market currencies.
A Bloomberg replica of the CFETS RMB Index, which tracks the yuan against 13 exchange rates, fell to a 16-month low of 97.8 on Wednesday, prompting ANZ to comment on whether the People's Bank of China has set a bottom for declines. The authority is engineering the yuan's weakness against the basket, which will allow the index to test 97, Credit Suisse Group AG analysts wrote in a note on Wednesday.
"I thought there was a floor back at 100, then 99, then 98," said Khoon Goh, a senior foreign-exchange strategist at ANZ in Singapore. "If we get further declines, say toward 95-96, then this may start to raise some concern about how much China is allowing the yuan to depreciate, especially against other Asian currencies, and raise competitiveness issues."
His comments come amid speculation that the PBOC is following a dual strategy of allowing appreciation against the dollar to curb outflows, while guiding a decline against trading partners to help revive exports. Last August's shock devaluation of the yuan set off a chain of competitive depreciations, with Kazakhstan abandoning control of the tenge, Vietnam weakening the dong and Pakistan allowing a drop in the rupee.

The PBOC's actions this time around are being helped by signs that monetary authorities in Europe and Japan won't expand their currency-depreciating stimulus programs much further. It's also benefiting from a less hawkish Federal Reserve, which is capping the greenback's gains. Independent central banks are coming to the conclusion that, if world economic conditions worsen, it's worse for them, according to Adnan Akant, head of currencies in New York at Fischer Francis Trees & Watts Inc., which has about $38 billion under management.
The yuan weakened 0.12 percent to 6.4835 a dollar as of 5:19 p.m. in Shanghai on Wednesday, according to China Foreign Exchange Trade system prices. The currency traded in Hong Kong's offshore market, which is free of the mainland's capital controls, was down 0.1 percent at 6.4919, sliding for a fourth day. The offshore yuan rose 1.6 percent in the January-March period, the biggest quarterly gain since 2011, amid a decline in the dollar. The U.S. currency has advanced 0.4 percent this month.
'Worst Combination'
"If the dollar rebounds, then the scenario might become the yuan weakens against both the greenback and a basket of currencies," said Tommy Xie, a Singapore-based economist at Oversea-Chinese Banking Corp. "A lower yuan index and a dollar rebound, that's the worst combination for the Chinese currency. I still believe the downside for the yuan index may be limited, considering policy makers' pledge to keep the yuan relatively stable versus the basket."
A situation where the yuan drops against both the basket and the greenback will be disruptive for emerging-market currencies, and in particular Credit Suisse's short-term bullish view on Asian exchange rates, analysts including Ray Farris wrote in a note Tuesday. China's foreign-exchange reserve data for March are due on Thursday, with the median forecast in a Bloomberg survey predicting the smallest decline since October, when it last increased.
In the money markets, the seven-day repo rate, a gauge of interbank funding availability, fell one basis point to 2.28 percent, according to a weighted average from the National Interbank Funding Center.
The cost of one-year interest-rate swaps, the fixed payment to receive the floating seven-day repo rate, rose one basis point to a six-week high of 2.33 percent, according to data compiled by Bloomberg. The yield on government bonds due January 2026 climbed one basis point to 2.89 percent.
— With assistance by Tian Chen, and Kyoungwha Kim
Before it's here, it's on the Bloomberg Terminal.
LEARN MORE