Unexpected Glimmer of Hope Arises in Libya
by , , and
Serraj hasn't yet won endorsement from government in east

Migrant smugglers, Islamic State thrived in Libya's chaos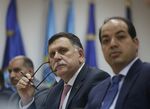 Virtually unknown in Libya until late last year, Fayez Serraj is quickly emerging as his country's best bet to escape five years of deepening turmoil.
The 56-year-old head of a fledgling United Nations-sponsored unity government last week sailed defiantly into a navy base near Tripoli. Instead of the hostility expected from politicians and militias, Serraj won support, offering a glimmer of hope that Libyans can halt a collapse that has uprooted nearly half a million people and enabled Islamic State to establish a presence on the Mediterranean.
His chief rival left the capital, while important factions in 10 cities and several armed groups pledged loyalty. Critically for an economy facing bankruptcy amid an oil-production slump, the National Oil Corp. and central bank, which struggled to remain neutral as Libyan authority fractured between two administrations, gave their backing.
He faces hurdles that proved insurmountable for the nine leaders that succeeded Muammar Qaddafi since 2011 and failed to restore stability to the holder of Africa's largest oil reserves. A government based in Tobruk in the east and its powerful military commander Khalifa Haftar oppose him. A spate of jihadist attacks would test fragile allegiances. Yet for now, the choice of the determined but unassuming Serraj, a businessman and former lawmaker with a knack for forging alliances, is working, according to analysts and people who know him.
'Someone New'
"Being relatively unknown would appear to be a weakness but it's his strong point," said Arturo Varvelli, an analyst at the Milan-based Institute for the Study of International Politics. "In the Libyan system of everyone-against-everyone, not having had senior jobs before or since Qaddafi allows him to present himself as someone new."
Karim Mezran, a senior fellow at the Atlantic Council in Washington, who first met Serraj two years ago, said he has the "right character to negotiate, to convince, to co-opt." Libyans "might have expected the prime minister at such a difficult time to be a bulldog but he isn't," he said.
The unity government is seeking to replace two earlier authorities. The House of Representatives fled east in 2014 after the post-Qaddafi legislative body it was supposed to replace, the General National Congress, refused to give up power.
Wealth Fund
If Serraj is to cement its rule he needs, at first, to keep his distance from world powers, said Varvelli. Otherwise Libyans might see him as "a puppet of the West. When his government has gained credibility, then he'll be able to ask for help," including possibly military assistance to fight Islamic State, he said.
For the moment, there are other ways governments can help. The UN Security Council has pledged to unfreeze Libya's $67 billion sovereign wealth fund if the new administration can reassert centralized control. That would improve an economy forecast to contract 8 percent this year.
Attacks on oil installations and lower crude prices have reduced foreign-currency reserves to about $50 billion. Last year, authorities capped bank withdrawals and importers rely on the black market, where the exchange rate hovers around three times the official 1.37 dinars to a dollar. Living costs surged in a country that imports most of what it consumes, putting even medicine beyond the reach of many.
Just Weeks
The economy must be Serraj's priority, said Mattia Toaldo, an analyst at the European Council on Foreign Relations in London.
"It's not because he's particularly charismatic that people are backing him, it's because they are sick of the situation," he said. "Time is running short, we're talking weeks, not months."
In a country of constantly shifting alliances, there's also the risk armed groups turn against Serraj. Most of the nine men who have led Libya since Qaddafi were at some stage opposed by militias vying for influence. Ali Zaidan was snatched from a Tripoli hotel in October 2013. Released a few hours later, he described his ordeal as an attempted coup by disaffected fighters who'd helped oust Qaddafi and felt ignored. During the few weeks that Ahmed Maiteg spent as premier his house was attacked with rocket-propelled grenades.
Last Act
Two days after sailing from Tunisia to Tripoli -- in one of his last acts before vacating the capital, General National Congress Premier Khalifa Ghwell had closed city airspace -- Serraj attended Friday prayers in the Mizran mosque near his family home.
Looking relaxed in a dark suit and blue shirt, he posed for photos as he strolled through the nearby Martyrs' Square, where in 2011 rebels tore down portraits of Qaddafi to celebrate his fall.
"That he chose to visit the mosque in his neighborhood is symbolic, it shows he has roots in the city, that he isn't part of a distant elite," said the Atlantic Council's Mezran. Serraj was educated at the University of Tripoli and his family name is most often associated with a prominent bookstore in the capital. Beyond that, Libyans know little of his past.
'First Step'
Then-UN envoy Bernardino Leon first proposed Serraj in October. His eventual selection was a surprise but made sense, Mezran said. "He was chosen because he could be acceptable to both sides, and so far that has turned out to be true," he said.
Former Libyan ambassador to Egypt Abdu Alhameed, a childhood friend, says Serraj's greatest attributes are that "he listens more than he talks, and he thinks before speaking."
A council of Islamic scholars and elders is supporting Serraj, as is the Petroleum Facilities Guard which controls oil-exporting ports at Brega and Ras Lanuf.
"He might well manage to create a new government, but restoring order is another task," said Varvelli, the analyst at the Milan institute.
To do either, he'll probably need the backing of General Haftar who commands security forces in the east. The UN has sought to pressure Haftar with a resolution preventing him from keeping oil revenue.
"It's by no means a triumphal march," Mezran said of Serraj's progress. "But the first step has been taken and that's the most important thing."
Before it's here, it's on the Bloomberg Terminal.
LEARN MORE