Three Pfizer Presidents Still Get $1 Million After Failed Deal
by and
One president just took over in February, still gets payment

Awarded for ``important role in consummating the combination''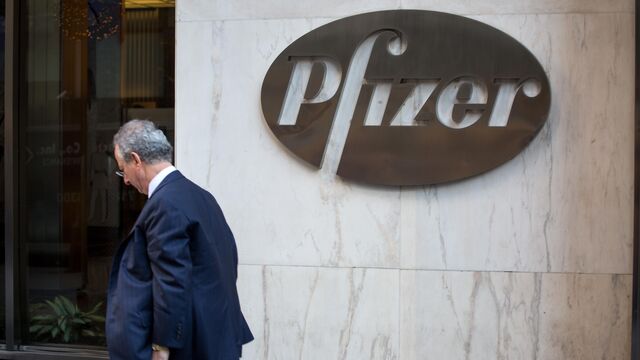 Three Pfizer Inc. executives will each receive $1 million cash awards tied to the drugmaker's combination with Allergan Plc even after that $160 billion deal was terminated.
Mikael Dolsten, president of worldwide research and development, and John D. Young, group president of global established pharma business, were granted retention awards tied to the deal because the board believed they "would have an important role in consummating the combination with Allergan and successfully integrating the two businesses," Pfizer said in a March 15 proxy statement. Those awards pay out even if the deal is canceled, the filing shows.
A third president who just got promoted to the job, Albert Bourla, is also getting a $1 million reward, according to Joan Campion, a spokeswoman for New York-based Pfizer. Bourla took over as head of global innovative pharma business on Feb. 8 from Geno Germano, who was eligible for the award before leaving.
Pfizer and Allergan, which has a legal domicile in Dublin, agreed to terminate their merger Wednesday, an abrupt end to the largest-ever health-care acquisition, as officials in Washington crack down on companies using acquisitions to shift their addresses overseas to avoid paying taxes. The U.S. Treasury Department's proposed rules to deter such corporate inversions this week drove the decision, the companies said Wednesday in a statement.
Before it's here, it's on the Bloomberg Terminal.
LEARN MORE