Swiss Won't Hoard Cash Despite Smaller Bills, SNB's Jordan Says
by
Central Bank President Thomas Jordan gives interview in Bern

SNB unveils new banknotes, redesign decade in making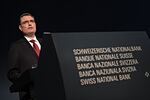 Swiss National Bank President Thomas Jordan doesn't expect cash stockpiling even with negative interest rates and a new series of smaller banknotes.
"The size has no impact on the cash hoarding," he said in a Bloomberg Television on Wednesday in Bern after the central bank unveiled a new banknotes that are smaller than those presently in use. "But we don't really observe a big hoarding in Switzerland. We have a little bit higher growth rates for cash, but not really a hoarding problem."
Negative interest rates and a pledge to wage currency market interventions have been the cornerstone of the SNB's monetary policy for the past 15 months, designed to combat an overvalued currency. The injection of additional monetary stimulus within the euro area has repeatedly prompted speculation the SNB could further reduce its deposit rate, already at a record low of minus 0.75 percent, to take pressure off the franc.
According to a Bloomberg survey, the SNB can take its deposit rate as low as minus 1.25 percent before people begin to hoard cash to circumvent the charge.
The Swiss have made clear they won't scrap their most-valuable 1,000 franc ($1,040) note in a bid to clamp down on crime. In the neighboring 19-country bloc, officials appear to be bandying about the idea of getting rid of their 500-euro ($567) note on concerns large-denomination bills are popular with the underworld due to their relative ease of transport.
"The 1,000-franc banknote remains," Jordan said. "In Switzerland cash payments are still very common, many people pay by cash in many different places. We have no plans to change anything with the issuance."
Before it's here, it's on the Bloomberg Terminal.
LEARN MORE