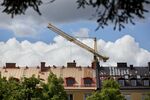 A hot real estate market is one of the biggest risks facing the Swedish economy. Fortunately, it looks like households are well-equipped to deal with a potential bust. 
It turns out that while Swedes have one of the highest private debt levels (as a percentage of disposable incomes) in the European Union, they are also the best at squirreling money away for a rainy day.
A recent survey by the European Commission shows the difference between the number of Swedish households that plan to set money aside in the coming 12 months and those who won't was a positive 59.6 percentage points in March, the highest in the EU. The difference between those who are already saving and those who aren't was second only to Luxembourg.
At the opposite end of the table is Greece, where the balance between those who plan to set money aside in the next 12 months and those who isn't, is minus 80 percentage points.

Sweden's thriftiness should comfort policy makers, who have been struggling to stem soaring housing prices and debt growth amid negative central bank rates. Despite a mortgage cap and increased amortization, average apartment prices have jumped 56 percent in the past four years while house prices have also risen, according to data from Svensk Maeklarstatisik AB. 

Household indebtedness, meanwhile, is forecast by the Riksbank to rise to 190 percent of disposable incomes by early 2019, from today's level of about 180 percent.
So how is it that Swedes are so thrifty?
``The main reason for the Swedish households' sound economy and high savings is that the Swedish economy has coped with the past few years of global economic turbulence better than other countries," said Tor Borg, chief economist at SBAB.
He has a point. Thanks to a weak krona, record stimulus from the central bank and higher public spending due to immigration, Sweden's gross domestic product expanded by 4.1 percent in 2015. The EU grew at an average of 2 percent last year. Unemployment is slowly coming down from its 2010 peak of 8.6 percent and is forecast at 6.9 percent this year, compared with an EU average of 8.8 percent.
In general, Swedish households also benefit from a strong welfare system, reduced taxes and low mortgage costs, according to Borg.
Before it's here, it's on the Bloomberg Terminal.
LEARN MORE