Omega President to Retire After Battling Rolex for 17 Years
By
Urquhart used Clooney, Kidman Endorsements to Boost Sales

Raynald Aeschlimann, 20-year veteran of Omega, to lead brand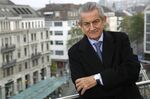 Stephen Urquhart plans to end a 17-year career leading Swatch Group AG's Omega brand, leaving top lieutenant Raynald Aeschlimann in charge to keep fighting Rolex and Cartier for first place in the Swiss watch industry.
Urquhart, who turns 70 at the end of May, will work on special projects and consult for the company, Swatch said Wednesday. Aeschlimann, who has been filling in for Urquhart when he couldn't make it to events, will succeed him as of June 1.
"Aeschlimann has been prepared for this role," said Rene Weber, an analyst at Bank Vontobel AG in Zurich. "The market knows him, and he's already well-regarded, and its therefore a logical succession. It's on one hand a rejuvenation, but also shows continuation."
More than a dozen Swiss watchmaking executives are approaching age 70. As a new generation of managers takes over, they face new challenges as smartwatches flood the lower-end market and producers study how to replace hand-crafted components with 3-D printed parts. Extravagant spending has been under attack in China, the industry's largest export market, while financial crises and offshore account scandals are turning public opinion against the extremely rich.
Urquhart often hosted dinners and store openings with stars such as Nicole Kidman, Cindy Crawford and George Clooney. In an attempt to lure a younger crowd to the brand, he recently has signed on 34-year-old Oscar-winning actor Eddie Redmayne as a brand ambassador.
Omega's sales were about 2.15 billion francs ($2.3 billion) in 2014, only surpassed by Rolex's 4.5 billion, according to estimates by Vontobel's Weber. Cartier probably was neck-and-neck with 2.14 billion francs, he has said.
He said in an October interview that getting young people interested in mechanical watches is a challenge, and to address that, he unveiled two models linked to James Bond last year. He also reintroduced the Omega Ladymatic to get more women interested in automatic timepieces.
Rudder Steady
"Mr. Urquhart is a very well-regarded executive; as such, his retirement could be seen as somewhat disappointing, especially given the importance of Omega to the group," Zuzanna Pusz, an analyst at Berenberg in London, wrote in a note. She estimates Omega generates about 30 percent of Swatch Group's sales.
Switzerland's two other best-selling watch brands have had executive changes in recent years, while Urquhart led Omega for more than a decade. Rolex named Jean-Frederic Dufour as chief executive officer last year, the third switch since 2008. Stanislas de Quercize, the former head of Cartier, stepped down about three years into the job, and Cyrille Vigneron replaced him in January.
Urquhart, who holds Swiss and British citizenship, was born on the Caribbean island of Trinidad to a Scottish father and a Portuguese mother. He started his career at Omega in 1968, before Swatch owned it, then moved on to lead competitor Audemars Piguet.
Urquhart, who plays golf, sails and skis for fun, began working at Swatch Group in 1997, starting at Blancpain. He was then picked to lead Omega just as the brand was adding British horologist George Daniels's new invention, the coaxial escapement, to its timepieces to reduce the need for maintenance. He also helped guide other technological advances such as Omega's magnetic-resistant timepieces. Under the executive, Omega expanded its network of boutiques, opening more than 200 stores across the globe.
Aeschlimann, a Swiss national who turns 46 this year, joined Omega in 1996.
Before it's here, it's on the Bloomberg Terminal.
LEARN MORE